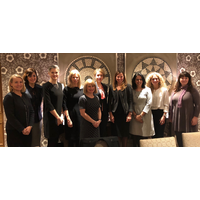 CWN announces new President and Board members following 2018 AGM
22 March, 2018
At its Annual General Meeting (AGM) held on 21 March 2018, CWN confirmed the election of Sandy Lucas as President Emeritus, Sally Todd as President and Uma Cresswell as Vice President.
The following committee Chairpersons were newly appointed to the Board: Anne-Marie Balfe as Chair of External Relations, Tracey Groves as Chair of Membership, Alisa Grafton as Chair of Marketing and Communications and Barbara Cremer as Treasurer and Chair of Operations. Rhonda Martin and Jules Benjamin were re-elected as Chair of Events Strategy and Secretary respectively.
Further details about CWN's newly appointed Board can be found on our website.
The following former Board members stood down at the AGM: Jacqui Moore and Sarah Burgess, Membership co-Chairs; Isabella Reggio, Treasurer; Carolyn Porretta, Marketing and Communications Chair; Nicolette Wykeman, Events Strategy co-Chair and Maria Mackenzie, External Relations Co-Chair. Brenda Trenowden, President Emeritus of CWN since 2015 was succeeded in that role by Sandy Lucas following the AGM.
Sally Todd, President, CWN, said, "CWN has been committed to providing a supportive network for senior women in UK business for 40 years. I am immensely privileged to serve our Membership as President during this milestone year as we celebrate this special anniversary.
"Our new Board brings together an accomplished and dynamic team of women from a cross section of industries, ably supported by our various committees. On behalf of the Board, I would like to thank those former Board members stepping down for their significant contribution and commitment over the past year."
---