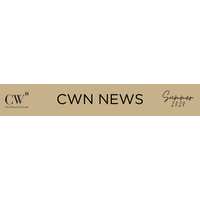 CWN News Summer 2020: pandemic perspectives, member spotlight and future events
Since our last newsletter, we have all had to find different ways to navigate our professional and personal lives during the lockdown period and the subsequent relaxation of some restrictions. Many of us will have faced hardships as well as positive moments. Movements have been created, such as Black Lives Matter or some organisations, such as the PRIDE, have continued to build momentum despite not being able to hold their annual celebrations. What they have in common is that they all remind us of the importance of equality and inclusivity, which is at the heart of CWN's purpose. With that in mind, we have asked a few members to share their professional and personal perspectives on COVID-19. We also continue our focus on members with our regular 'spotlight on' feature. In this issue, Amy Davies shares how she started the second phase of her successful career by securing a VP role at Autonomous after a 15-year employment sabbatical.
Hopefully you will have seen and experienced our fresh approach to helping our members to connect and learn, by moving all of our events onto an online platform – we have received wonderful feedback around the quality and variety of events to date. Thank you to everyone who has made this possible so quickly and seamlessly. Do remember that we have created an 'Online Academy' so you can watch these events at your convenience simply by logging in with your username and password. We've also included a list of events in the diary from September onwards. As always, there is a wide range of topics and speakers to look forward to.
We are looking forward to when we can all meet in person again, particularly our new members who have joined the network over the past few months. Some of those have joined following the change in our membership criteria to include professionals with ten years' experience. This change means that we are now able to support the development and advancement of aspirational females to help them achieve their goals. If you have anyone in your network that would benefit from joining CWN, then please do share with them details on how they can get involved.
We were hoping to be able to hold our annual summer drinks event in central London as our social events are an important date in the calendar for us all to connect and catch up. Unfortunately, large gatherings of more than 30 people are still prohibited so instead, we were delighted that Lucy Crowe was the highlight of our summer soiree event on the 15 July. It was a wonderful way for us to relax with beautiful music to soothe us into summer. It rounded up a fantastic array of online events that has resulted in charitable donations in excess of £8,000 for our charity partner, Wellbeing of Women. They have asked us to extend their thanks to everyone for supporting them during a very challenging few months and we have included an update on their progress.
In the meantime, whatever your circumstances may be, we hope each of you manages to take some time out of your usual routine and to find time to relax over the summer.
Articles in this issue:
Life after COVID-19: a journey of growth & transformation
News from our Charity Partner Wellbeing of Women
---