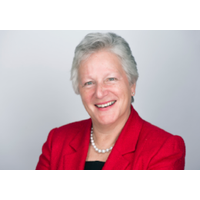 Spotlight on Monica Fisher
Monica Fisher, founding member of CWN and former executive with Bank of America and First National Bank of Chicago, shares insights from her career and tells us what inspired her to become a founder member of CWN.
What inspired you to become a founder member of CWN?
Back in the late '70s, banking was still a man's world. Most women were secretarial or clerical, so there weren't many professional women in any one organization. I was invited to join a 'Little Ladies of London' lunch. This tongue-in-cheek name was our spirited response to the all-male clubs and Old School Tie Networks. Joni Nelson had arrived from New York - she was the driving force behind establishing the informal monthly gathering of women accountants, bankers and lawyers who worked in the 'square mile'. It wasn't long before the CWN was born.
How has being a member of CWN helped you achieve your career goals?
The talks and networking no doubt helped me to mature in the business environment and progress in my banking career – a far cry from my zoology degree. However, the true benefit to me, of being a member of CWN, came when I started my portfolio career. Three of my first four external roles were directly attributable to my CWN membership including being appointed as a NED on Watson Wyatt's Board and a Trustee, later Chairman, of a regional Children's Hospice Charity (for which I'm still an ambassador and mini bus driver!)
Which achievements are you most proud of in your professional life?
Early on, I was proud to be the first woman and the first graduate in Bank of America London Branch's trading room, and helping to set maternity policy with regard to company cars, as no woman entitled to a car had gone on maternity leave before.
Whilst at First National Bank of Chicago, I worked mostly in Eastern Europe which was a brand new market following the fall of the Berlin Wall and the end of the Soviet era. I spoke at key conferences in Bratislava and in Siberia in January, which was a shock to the system!
However, perhaps my best memories relate to continuing to keep satisfying customer orders in a chaotic market, be that caused by a US helicopter crash in Iran in Operation Eagle Claw in 1980 and speculation about enemy fire; the hurricane and power cuts in London in 1987; or the earthquake in San Francisco in 1989. Also putting together what might have been the first cross currency interest rate swap (13yr USD/NOK) in 1980, long before ISDA existed, still brings a smile to my face.
Are there any particular women you have helped, that you remember to this day?
Being involved in a CWN programme where members visited school sixth forms, and encouraged girls to aim high, meant I was lucky enough to witness light bulb moments such as when an attendee smiled and I saw a change in attitude.
What career advice would you give your younger self?
Do not act in a role in the way you think others are expecting; be true to yourself not to their preconceptions. In my experience, maximizing the positives even if there are limitations, results in the best outcomes.
What's your hidden talent that others don't know you have?
Not many people know that I have climbed the Matterhorn before I went to Oxford. Sport has always been important to me and I still enjoy hill-walking, playing tennis and of course, watching the boat race (having rowed in the blue boat for three years).
What are you reading right now?
I'm reading 'Remarkable Creatures by Tracy Chevalier'. This story of Mary Anning, the fossil hunter, gave me useful background to the ichthyosaur I saw last month, when I visited the Natural History Museum with my 3yr old granddaughter, Naomi. I hope that if she becomes a third-generation banker, CWN will be there to provide her with the support, education and friendships that I have enjoyed through being a member.
---