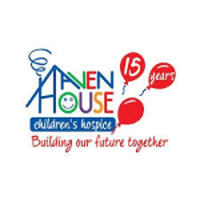 Supporting Haven House Children's Hospice - Fundraising and Volunteer Opportunities
Haven House hospice aims to provide the highest quality holistic and palliative care services for babies, children and young people with life-limiting conditions (aged from birth to 19 years), along with their families, who live in the charity's local communities across eleven London boroughs, West Essex and East Hertfordshire.
CWN is working in partnership with Haven House over a two year period (2018-2019), aiming to contribute in a meaningful way towards the charity's 'Vision 2020' initiative. This project aims to support 500 children and their families per annum at critical times of need through core respite, end-of-life and community service activities, teenage cancer and mothers and babies groups, by 2020.
There are a number of ways CWN members can support Haven House.
You can sponsor a fellow CWN member as we complete a 10K run for Haven House.
We are running the British 10k on Sunday 15th July on behalf of the City Women Network, to raise money for Haven House Children's Hospice.This year's runners are Sandy Lucas (CWN President Emeritus), Barbara Cremer (CWN Treasurer), Isabella Reggio (past CWN Treasurer), Sarah Burgess (past CWN board member), Ian Burgess; and Anne-Marie Balfe (CWN External Relations Chair).
To sponsor our team, please click here.
Additional volunteer opportunities
Summer Fair on Sunday 1st July. A fun day for all (including the kids) with a BBQ, stalls, games and live music. If you want to come along you can register your details on their website here.
Gardening Days – 6-8 people do a day of gardening at Haven House. Get a group of CWN members (and friends) together for a spot of gardening in the Haven House Garden.
Retail Volunteering – 2-4 people can volunteer at a Haven House shop for a day.
To find out more about how you can get involved and support Haven House, please click here, or get in touch with CWN Board Member Anne-Marie Balfe.
---