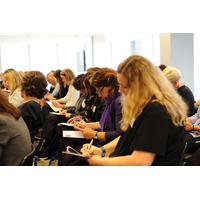 Sparking Innovation, developing creativity in yourself and others
On 3rd May CWN partnered with Warwick Business School to deliver a masterclass by Dr Tamara Friedrich looking at ways to help us lead more effectively through being more creative.
The stunning venue of the Shard premises of WBS provided a good way to spark creativity with its cool, white space overlooking the city's skyline.
The session more than matched the surroundings with guests sharing that the content and format was felt to be inspiring and original whilst creating a relaxed and enjoyable to meet other guests over wine and canapes.
Dr Friedrich engaged with the audience in way that was practical but also highly relevant creating the opportunities for us to carry out some exercises in pairs. This personalised learning in the moment, creating time for both personal reflection and hearing about the experiences of others.
The masterclass encouraged us to think about what creativity means for each of us individually and also as managers and leaders of teams.
We considered the challenges of how creativity can be championed in an organisational context looking at case studies of international business'. We considered how removing the fear of failure encourages not just innovation and risk taking but contributes towards changing a working culture.
To find out more events planned for 2017 please go to www.citywomen.org
---