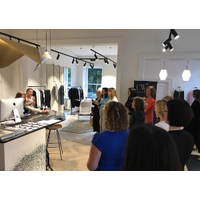 An Evening at The Fold with Founder and CEO, Polly McMaster
In partnership with the Fold, a chic clothing brand for professional women, CWN and Fold held an evening VIP event at the Fold's flagship store in Cadogan Place, Knightsbridge London, for CWN Members and their guests.
Polly McMaster, CEO and Founder, shared her career journey to date with 40 guests and took part in a Q&A discussion alongside Sally Todd, CWN President, inviting questions from the guests.
We learned about the challenges and opportunities that setting up and managing the Fold has brought to Polly and her team and also about the success the Fold now enjoys as it grows.
The much admired community of Fold Women was discussed during the session as exemplary in the way Polly and her team are championing and showcasing the careers of many of their customers, women with lifestyles and unique stories who continue to inspire others. For more information on the Fold Woman see www.thefoldlondon.com
Polly was passionate about the importance of seeing the bigger picture regarding business development and networking and in being patient in that process and in not underestimating the importance of hard work and 'keeping going'.
Experiences were shared at the event about the imperative of understanding finances and of how important that is to the growth of any business.
Networking, shopping and more conversation continued over canapes and drinks after Polly's and Sally's session. Many enjoyed the opportunity to try on and purchase the new autumn/winter collection in a relaxed and fun environment.
We hope to offer more events like this over the coming year.
---