CWN Charity Partner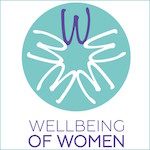 Wellbeing of Women is the UK's foremost charity that invests in pioneering, peer-reviewed medical research across the whole breadth of women's reproductive health and childbirth. In 55 years, Wellbeing of Women has invested over £55 million to find cures, improve diagnosis and develop new and better treatments across three areas; pregnancy, childbirth and fertility, gynaecological cancers and general issues affecting women's health and wellbeing.
CWN will work in partnership with Wellbeing of Women over a two-year period (2020-2021), aiming to contribute in a meaningful way towards their vital research which helps the one in three women that experience a gynaecological health issue at some point in their lives.
Women's health is largely overlooked and underfunded, with only 2.48% of publicly funded research devoted to reproductive health and childbirth. This makes Wellbeing of Women one of the few sources of vital funding to support progress in the health of women and their families.
CWN is committed to enhancing the development and resilience of women both professionally and personally. This links closely to the aims of Wellbeing of Women, as the outcomes of their research improves women's health both at home and in the workplace.
Wellbeing of Women was founded in 1964 and many of the routine tests and treatments that form everyday clinical practice can be traced back to their work. The findings of their research can be seen in the use of ultrasound in pregnancy, the importance of taking folic acid for the health of the unborn baby and linking HPV to cervical cancer resulting in the HPV vaccine now available for girls nationwide.
As Honorary President of the charity and former Royal Gynaecologist, Sir Marcus Setchell, says "there will be no woman alive today who has not, in one way or another, benefited from research funded by Wellbeing of Women."
Please go online to find out more and how you can support our work, or read about upcoming events that you can attend or get involved with here.