This page is updated regularly and comprises upcoming events and seminars which are put on by third party organisations, some of whom have alliances with CWN, such as Women on Boards and NEDonBoards.  They have been selected for the relevance of their subject matter to our members.  Registration and, where relevant, payment details are included in the outline of each event.  We hope you find them useful.
Women in IT Summit & Awards UK - 23rd and 24th June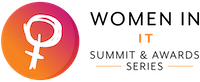 The Women in IT Summit & Awards initiative, presented by DiversityQ, supports the tech industry in its mission to move the dial on workplace diversity & inclusion. By providing a global platform to showcase advocates, role models, and allies this growing series works alongside industry champions to share knowledge and promote the importance of an inclusive tech sector.
Our summit agenda is filled with informative and engaging content and together with some powerhouse individuals, we will explore the latest technical hot topics and drive important workplace diversity conversations forwards. You can view the summit agenda here. 
Following the summit, the Women in IT Awards will recognise outstanding talent across the UK's tech industry, as well as the employers that are implementing diversity initiatives and breaking boundaries to spearhead real change and empower women in to the sector. We are currently taking nominations, and you can view more information here.