The following list, which is updated regularly, comprises upcoming events and seminars which are put on by third party organisations, some of whom have alliances with CWN.  They have      been selected for the relevance of their subject matter to our Members.  Registration and, where relevant, payment details are included in the outline of each event.  We hope you find them useful.
Business Breakfast - Have breakfast with a dragon - 6th December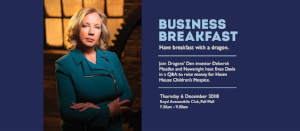 Join Dragon's Den investor Deborah Meaden and Newsnight host Evan Davis in a Q & A to raise money for Haven House Children's Hospice. 
Deborah Meaden, one of the country's most prominent entrepreneurs and self-made millionaires, will share her thoughts in a Q&A with Evan Davis on a range of topics from Brexit to investing and setting up your own business.
When: Thursday 6 December, 7.30am-9.30am 
Where: Royal Automobile Club, 89 Pall Mall, London SW1 5HS
Admission: Single ticket: £80; Discounted rate of £75 for tables of ten. The ticket price includes a full English breakfast with drinks and the keynote presentation. 
To book your place, please click here.
London Art Fair - 16th January 2019
Private View for CWN Members
London Art Fair returns for its 31st anniversary, presenting leading British and international galleries alongside specially curated spaces, Art Projects and Photo50. The Fair invites collectors and visitors to discover works by renowned artists from the 20th century to today.
Taking place from 16-20 January 2019, London Art Fair is an unmissable opening to the international art calendar.
London Art Fair would like to invite you to attend the fair's Private View on Wednesday 16 January 2019, 6pm-9pm. This is an exclusive, invitation-only evening reception providing you with the opportunity to benefit from the expertise of the Fair's exhibiting galleries, whether you're buying art for the first time or building your collection.
When: 16th January 2019, 6.00pm - 9.00pm
Where: Business Design Centre , 52 Upper Street, London N1 0QH
Admission:  Up to two tickets can be booked per registration at no cost. Visit London Art Fair Book Ticket for Private View and use code LAF1038 to register for your invitation. Please note that capacity is limited, so register at your earliest convenience. 
Chatham House Responsible Business Conference -  29th February 2019
Priorities, practices and principles in a digital age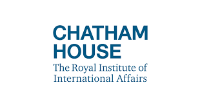 Ever-increasing consumer, investor and employee awareness continues to drive the business case for responsible behaviour, and recent events have highlighted the growing need for corporate accountability and transparency from C-suite behaviour to global supply chain management. 
The third annual Chatham House Responsible Business conference will explore key questions, including:
Who will lead the corporate responsibility agenda? What is driving responsible behaviour? 
To what extent has there been a policy retreat in this space? What has been the response to this, and what does it mean for different roles and responsibilities? 
What are the new priorities for responsible business in a digital age? How have recent events demonstrated a shift in expectations? 
How can policy-makers and companies foster the integration of human rights across global supply chains, international trade and regional business operations?
What is the role of corporate governance and leadership in setting standards and promoting responsible business? Is this a new era of corporate activism? 
Please click here for the full agenda and list of speakers.  
When: 28 February 2019, 9.30am-5.30pm 
Where: Chatham House, 10 St James's Square, London SW1Y 4LE
Admission: Register by Friday 14 December 2018 to benefit from the early bird booking rate - tickets start from £380 plus VAT depending on the ticket category of your organisation. For more information and to register please click here.
***CWN IS PROUD TO BE A SUPPORTING ORGANISATION TO THIS EVENT***