The following list, which is updated regularly, comprises upcoming events and seminars which are put on by third party organisations, some of whom have alliances with CWN.  They have      been selected for the relevance of their subject matter to our Members.  Registration and, where relevant, payment details are included in the outline of each event.  We hope you find them useful.
Innovate for Good - 17th October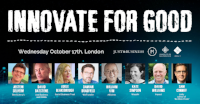 In the age of the purpose-driven consumer, an increasing body of companies now go beyond sustainability; Innovating For Good. This day-long conference - brought to you by Impact, Just Business, University of San Fransisco School of Management -  features business leaders who are succeeding at just that: building brands at the top of their market sector and embedding positive social impact into the core of their enterprises.
Join leaders of world-leading organisations for a day of inspirational keynotes, inspiring panel debates and innovation.
The conference is packed with:
Powerful keynotes from founders and executives of leading global brands 
Panel discussions and Q&A's with the worlds greatest innovators 
Innovation activities to inspire ideas to innovate for good
For the full line-up of speakers, please click here.
When: Wednesday 17th October, 9.00am - 5.00pm
Where: M Restaurant, 60 Threadneedle Street, London , EC2R 8HP
Admission: £45 + VAT, including lunch and refreshments throughout. To book your place, click here.
Trustee Leadership Programme London - 3 October - 14 November 2018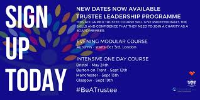 Created and delivered by social enterprise Cause4 in partnership with Close Brothers Asset Management and the Clothworkers' Company, this acclaimed Trustee course will give potential Trustees the skills and confidence that they need to join a charity as a board member.
For existing Trustees the programme will provide a refresher on essential elements of Trusteeship and ensure that participants are up to date with any new legislation.
An enriching career development opportunity offered over five evenings, the course covers the key regulatory issues. As part of a unique Trustee matching service, participants will meet charities looking for Trustees and there will be an opportunity to receive accreditation from the Institute of Leadership Management.
Participants will also receive first-hand insights from senior charity experts and there will be time for Q&A and networking.
When: 
Wednesday 3 October - Module 1: Overview of the Charity Sector and the Importance of Trustees
Wednesday 10 October - Module 2: Governance & Strategic Planning
Wednesday 31 October - Module 3: Financial Management
Thursday 8 November - Module 4: Introduction to Fundraising
Wednesday 14 November - Charity Trustee Matching Event. Meet Charity Leaders seeking new Trustees.
Where: Close Brothers - 10 Crown Place, London EC2A 4FT
Admission: Tickets cost £120 + VAT, processing and banking fees. To book you place, please click here.
The Trustee Leadership Programme recommends the following recruitment site for exploring volunteer/trustee opportunities.
Behind Every Great City - 2nd November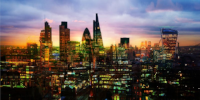 The Fawcett Society present a talk exploring women who have helped to shape the City, with CWN past President, Brenda Trenowden, Head  of FIG Europe, ANZ Bank, and Global Chair of the 30% Club and guests. Chaired by Sharon Ament, Director of the Museum of London.
When: Friday 2nd November, 6pm–8pm
Where: The Old Bailey EC4M 7EH
Admission: £5 (plus booking fee)
For further event details and to purchase tickets, please click here.
SPARK21 Annual Conference 2018: Levelling the Playing Field - 7th November

       Join First 100 Years for their flagship event, the SPARK21 conference, on 7th November 2018.
The conference is a one-day event with three keynote speakers - Lord Chancellor, David Gauke; Dany Cotton, Commissioner of the London Fire Brigade; Rowena Collins Rice, Director General of the Attorney General's Office - a selection of insightful panel discussions and a drinks reception to finish. For details of the full programme please click here.
Tickets include refreshments throughout the day, access to the full day of panel discussions, interviews and speeches and the drinks reception to finish.
Buying a ticket also helps us to tell the stories of inspirational women who have made an impact in the law in the last 100 years, to ensure we inspire women for the next 100 years.
When: Wednesday 7th November, 9.00am - 5.30pm, followed by drinks reception until 7.00pm
Where: Simmons and Simmons, 1 Ropemaker Street, London EC2Y 9SS
Admission: Individual tickets are normally £100 + £22.83 fee and VAT, however CWN members are being offered a £20 discount. Enter the Promotional Code EARLYBIRD when selecting your ticket type for the discount to be applied. 
To purchase your ticket/s please click here.
Inclusive Futures: How to create social diversity in the workplace - 8th November

As businesses seek to address an evolving competitive landscape, and look for a wider range of skills when recruiting, broadening their employee and leadership base by increasing social diversity is becoming a business imperative.
CFA UK's Gender Diversity Network invites you to engage with an exciting line up of speakers at this event in partnership with Barclays and City Women Network (CWN).
We will be hosting a diverse group of current and future business leaders to discuss:
the need for increased social inclusion in the workplace
how to deepen cognitive diversity
practical ways to create a culture that fosters social diversity
empowering individuals to understand their unique skills and the opportunities in front of them
Timings and Speakers:
17:30 Registration
18:00 Welcome remarks - Ashok Vaswani, CEO, Barclays Bank UK
18:20 Generation Z perspective - Constance Nafuna, Senior Relationship Management Team, Barclays International
18:45 Panel discussion and Q&A 
  Jon Addison, Head of Talent Solutions UK, LinkedIn 
  Dr Lee Elliot Major, CEO, Sutton Trust 
  Yvette Forrester, Corporate Programme Management Office, BNY Mellon 
  Clare Payn, Head of Corporate Governance North America, Legal & General Investment Management 
  Karis Stander, Managing Director, Investment 20/20 
  Chair: Wendy Papworth, Head of Diversity and Inclusion, Barclays UK
20:00 Drinks reception and networking
Where: Barclay's Bank, 1 Churchill Place, London E14 5HP
Admission: Free. 
To register your place, please click here.
Variety Catherine Awards 2018 - 13th November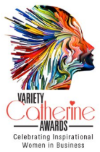 Founded in 2016 by Variety, the Children's Charity and 2016 Chief Barker Pamela Sinclair, Variety Catherine Awards is setting a new standard for recognising the myriad contributions from women in business and philanthropy while raising awareness and funds for disabled and disadvantaged children throughout the UK.
They are looking for nominations for inspirational women in business who may fall under one of the following categories:
Rising Star Award, Entrepreneurial Spirit Award, Finance and Banking Award, Professional Services Award, Creative Industries Award, Science and Technology Award, Retail and Fashion Award, Inspirational Award, Sports Industries Award, Women's Empowerment in the Workplace Award.
If you would like to attend this spectacular event for a wonderful cause, or have a suitable spokesperson or client to nominate, please see further details here on Variety's website, where there is also a link to complete a  simple nomination form .
When: Tuesday 13th November, 
Where: London Marriott Hotel, Grosvenor Square, London W1K 6JP
Admission: £295 for individual ticket. Tables options available.