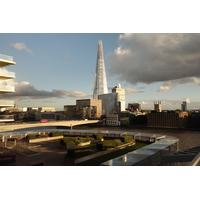 An Evening with Caroline Webb
On a beautiful evening in early Autumn, Nomura opened its doors and their fabulous roof terrace to host around hundred CWN members and guests who, on 13th September, came to meet the renowned leadership coach and author Caroline Webb.
In 2016 Caroline published her highly successful book How to Have a Good Day: Harness the Power of Behavioral Science to Transform Your Working Life, which received accolades from the readers as well as within the industry. It was easy to see why – throughout the talk Caroline quoted fascinating insights drawn from the behavioural sciences combined with her own rich professional background as a Partner at McKinsey and seamlessly connected this with what the scientists say on the subject. The presentation was punctuated by Caroline's trademark humour that highlighted her authenticity and remarkable connection with the audience – it was evident that the CWN's members and guests alike were fully engaged in the presentation. It turned out to be a very interactive hour, where we were asked to discuss with a person next to us an idea introduced by Caroline. Many of us were intrigued by a concept of committing to a positive intention that is likely to spin around what would otherwise be a chain of routine events of a day. Through simple exercises Caroline convincingly introduced the idea of single tasking to enhance daily productivity, and the audience was evidently surprised by the simplicity and the power behind this small change in how we do things.
Following interesting comments and questions for Caroline, our hosts Nomura invited the audience to continue discussion at a drinks reception where some exquisitely delicious canapes were served. The room was buzzing with the phrase "how to have a good day", with members and guests sharing their personal suggestions and ideas inspired by Caroline's stimulating talk. It is not often that in the business world we hear a set of ideas that are as simple, effective and powerful as those described in Caroline's brilliant speech.
---