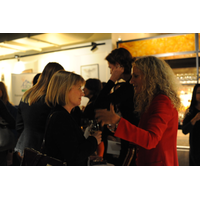 Annual Winter Drinks and New Charity Presentation
CWN started the year of its 40th anniversary in style with many members and their guests coming together for drinks, networking and a rousing speech. Our guest speaker was Mr Mitesh Sheth, CEO of Redington, a rapidly growing financial education, advisory and technology provider to pension funds.
Leadership is "about letting others shine".
Mitesh Sheth, CEO of Redington since April 2016, inspired and challenged the audience with his refreshing and very personal take on our theme 'Leading through uncertainty with confidence, resilience and impact'.
For him, the old leadership models no longer work in a corporate world where innovation and adaptability have become key to success. Uninspired by the role models he encountered earlier in his career, Mitesh shared how he learned valuable lessons from atypical role models. His grandmother e.g. instilled in him an appreciation of non-conformity. After all, as she used to say to him as a young boy: "Why would you want to fit in? That is so boring." Another guiding principle Mitesh lives by, is: "You don't control everything, but you can change what little you do control."
To Mitesh, leadership is ultimately about serving others. It comes down to one's ability to step away, however hard that is, and let others shine. Leading oneself as well as others requires deep personal courage and the ability to face up to your own vulnerability and limitations.
In a lively Q&A session, Mitesh invited the women present to play their part in making our organisations more diverse and changing them for the better.
Meet our new Charity: Haven House, Children's Hospice
Ms Kate Rosenthal of Haven House, Children's Hospice, introduced the valuable work they do with the help of partners like CWN.
Haven House, a safe house for children with life limiting conditions and their families, celebrates its 15th anniversary this year.
CWN is proud to be supporting this extraordinary charity in many forms, not only supporting them financially but also by volunteering and by participating in events.
If you want to network while supporting Haven House, do check out the annual Women in Business Lunch (Thursday 8 March 2018, Royal Automobile Club) on the charity's website.
---