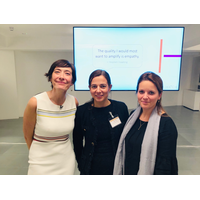 Changing Workplaces
In collaboration Derwent, CWN members and guests were invited to attend an evening event at 25 Saville Row in London, one of Derwent's showcase properties, to hear Monica Parker, founder of HATCH Analytics, discuss the nature of our changing workplaces.
After a wonderful introduction to Derwent and CWN from Emily Prideaux, Head of Leasing, Monica Parker took the audience on a journey with a dynamic, engaging and entertaining talk addressing big topics including the future human skillset encompassing presence, unlearning, aha moments and, a new term for many of us in the audience, meraki.
And what about disruptors like automation, globalisation & portfolio work? Monica encouraged the audience to embrace the positive in these – citing examples of facial recognition used to reunite orphans with their parents in India and the first flower, a beautiful zinnia, grown in space, to make her point.
Turning our attention to the key contributors to an engaged workforce, Monica shared her perspective on cause, control, contemplation & community as essential aspects of the workplace.
We also explored the way in which we develop new skills. On this topic, Monica asked us to consider Kurt Lewin's change model stages of thawing, reframing and refreezing – still compelling and relevant. Monica also shared research on neuroplasticity and learning with a wonderful video of one person's attempt to ride the "backwards bicycle" as an adult compared to his young son's.
Conversations continued over drinks and canapes where guests from Derwent and CWN were able to speak with Monica Parker, network and share experiences.
---