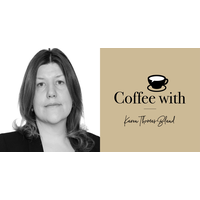 Coffee with Karen Thomas-Bland
Karen Thomas-Bland is an international Board Level Advisor, Non-Executive Director and Chair with over 22 years' experience as a strategy and transformation specialist in professional services including EY, IBM, Accenture and KPMG. Karen joined CWN in April 2019 and currently has a portfolio career including NED/Chair, interim and consulting roles alongside Angel investing in scale-up Technology companies which pursue profit alongside a positive social impact.
Your areas of expertise include creating growth strategies and international expansion. Where did you learn your 'craft'?
If I was to define my craft its really about helping organisations create break-through strategies, transforming their operating models and growing revenue and equity value. I do this through Non-Executive Director, Chair, Consulting and Interim Executive roles. Having a portfolio career means keeping re-applying your skills to an ever-changing series of challenges. Aside from formal training, I learn and hone my craft through gaining a broad set of experiences – I have consulted in over 100 companies, collaborating with a broad network of people with very different backgrounds and skill sets and being committed to life-long learning through taking classes, courses and being part of networks with different focus areas.
You have had a successful career across many large organisations – what did you want to be when you 'grew up'?
Growing up, I was fascinated with human behaviour which led me to declare pretty early on that I wanted to be a Psychologist. I followed that initial passion through, and my first career was as a Business Psychologist. I have pivoted several times from Psychologist to Management Consultant focused on Transformation to Corporate Strategy, Commercial Director, Managing Director and then to a Portfolio Board career. It's probably fair to say I thrive on change!
You are currently advising boards as both a Non-Exec Director and in a consulting capacity – what are you most proud of in your career?
A couple of things stand out. First, building a new consulting and data analytics business to £500m turnover. I scaled the business in 180 geographic markets which was a big challenge. Second my passion is working with technology entrepreneurs to scale their businesses, which is hugely rewarding. I am proud of all of them for having the vision, passion and conviction to grow their businesses.
What is the best decision you have made for your career?
The best decision I have made was transitioning from Executive to a Portfolio Career. I really enjoy going into organisations for a defined period of time, adding significant value and leaving the them with measurable outcomes aligned to their objectives. Being portfolio has enabled me to deliver transformational, high impact assignments across the globe on my own terms.
… and the worst decision you have made?
I don't regret any of my decisions because they were always a balance between heart and head – was I passionate about it and would it bring me value. If I was starting out again, I would put even more effort into building and nurturing my network early on. It's no secret that great leaders are super well networked and connected. I would also always say yes to a coffee. It can be hard when you are time pressured, but it feels good to help someone and you never know where conversations and connections can lead. Finally, the one I've always tried to stick by is remaining relevant, which becomes even more challenging with the pace of technological change.
CWN has members who are currently in the early stage of their executive careers – what advice would you give them and your younger self?
First, it sounds cliched but do what you love doing and what you feel really passionate about. If you wake up feeling energised and inspired, it makes a huge difference. Second, think about yourself as a brand – what is your unique value proposition, how do you articulate it and how will you differentiate yourself from the competition? Then protect your brand by always delivering a stellar job.
Third, build yourself a great network in and outside of your organisation, you need advocates, champions and sponsors. I do believe women are over mentored and under sponsored – find someone who has the power to make things happen for you. Seek people out too who will give you really honest feedback to accelerate your development. Finally, take on big roles and set big goals for yourself, even if you don't believe you are quite ready.
What do you think women can do to help other women in their careers?
We need to champion women much more. We need more women on boards, in senior leadership roles, as entrepreneurs and investors. If in a corporate role we need to look for the next women coming up to sponsor and champion them, if we are on a Board, we need to advocate the benefits for other women joining, and diversity generally. We need to influence women Angel Investors, Venture Capitalists and Private Equity investors to invest in and champion women backed businesses and as women investors we need to invest in women founded businesses. Change is happening but the pace is far too slow.
You have lived and worked across the world – which city or country did you enjoy the most and why?
I have loved living and working in all the cities I have been fortunate to be based out of, but New York probably edges it for me. The city has a dynamism and energy that makes working their exciting and has the feeling of endless possibilities. It also suits my own personal work style which is fast paced and focussed on getting things done!
What would be your favourite place to have a coffee in London and with whom?
My favourite place for a coffee is the café in Regents Park on a Sunday morning. I defy anyone to visit their and say London is not a friendly city. Borrowing a dog helps as other dog walkers are the friendliest people you will meet! I would have coffee with Elizabeth Holmes. I have just finished the book 'Bad Blood: Secrets and Lies in a Silicon Valley Startup' which covers the rise and fall of the firm Theranos, a multibillion-dollar biotech startup which Elizabeth founded. It's a fascinating read and full of great lessons for entrepreneurs and investors.
---