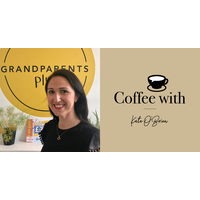 Coffee with Kate O'Brien
Kate O'Brien, one of our newest members, is the Director of Business Development and Programmes at Grandparents Plus, the national charity working for grandparents and relatives raising children who aren't able to live with their parents (aka kinship carers). Kate has worked for a range of organisations in the non-profit sector – she is driven and passionate about important causes.
You are experienced operating in complex organisations, driving transformation–what key skill do you attribute your success to?
I worked at Save the Children for 11 years, which involved lots of international travel and a variety of different roles, challenges and opportunities. I've worked on mergers in other organisations and been involved in numerous organisational change processes. Putting yourself in other peoples' shoes in order to negotiate successfully is absolutely key and I use the WEB model ('want to get, expect to get, better get') in negotiating - so simple but effective. This is something I learnt from Leyla Gilbey– a fellow CWN member and Events Strategy Committee member –my boss almost 20 years ago! I would also add that determination is fundamental – don't give up!
You have a successful career in the non-profit sector – what did you want to be when you 'grew up'?
I really wanted to be a diplomat or a spy- the seed was sown in my childhood watching James Bond movies with my Dad! I became a member of Amnesty International, age 11 and wrote regularly to various governments around the world to campaign for the release of those unjustly imprisoned. I represented St Kitts and Nevis in a Junior Commonwealth Heads of Government meeting in my teens and then went on to study International Studies with French at the University of Birmingham and later worked at the European Parliament in Brussels. However, I soon realised I was too non-conformist to work in the civil service!
You are currently a Director at Grandparents Plus and have worked across the not for profit sector, what is your biggest challenge in your current role?
Part of my job is to generate income from local authorities, which is a huge challenge in the current economic climate of austerity and budget cuts. I was brought in to diversify our business model, which was heavily dependent on grants from trusts and foundations. Income from local authorities grew from zero to around 15 per cent of our total budget last year by focusing on the economic case for investing in the service we offer; the improved outcomes for children in kinship care in addition to the potential cost savings. This year income from local authorities has increased by 64%.
What is the best decision you have made in your career?
I was working at Cancer Research UK and had a place to do a Masters at the London School of Economics in Human Rights. However, I was offered a maternity cover role as North London Manager at Save the Children. I decided to take a risk and defer my place at LSE and go for the Save the Children role, despite it only being a short-term contract, as it was an organisation I'd always dreamed of working for. I was there for 11 years, having a wide range of roles and opportunities and travelling all over the world.
… and the worst decision you have made?
I know it sounds cliché but I genuinely don't think there are 'worst' decisions as all decisions offer learning opportunities. I think there are tough decisions – one was when I was offered the opportunity to take up a senior role as part of the emergency response to the Haiti earthquake in 2010. However, I knew I wanted to start a family and that it was not the right time for me to spend a long period in that kind of environment. My daughter Rosa was born the following year so it was worth the sacrifice. I do think it's important for organisations to acknowledge that women have to consider things that men never do and also for women to know that it's ok to put their home life first sometimes and that they can still have a successful career.
CWN has members who are currently in the early stage of their executive careers – what advice would you give them and your younger self?
Look for opportunities for growth and development outside of your workplace. Meeting people from other organisations or other walks of life can be so enriching, both personally and professionally. For example, I'm a governor at a local primary school, a mentor with the Aspire Foundation and a member of the Events Strategy Committee with CWN. I've learnt so much from all of these and have also met some really inspiring people. At the same time, look after yourself both physically and mentally. I had breast cancer six years ago when I was pregnant with my son Felix and it's made me really appreciate lots of things about being alive. Make sure you invest time in a few very good friends – those you can truly depend on if the bleep hits the fan.
What do you think women can do to help other women in their careers?
Join CWN! I think we have enough additional challenges as females in the workplace so I strongly encourage women to support others rather than see them as a threat. One thing I love about CWN is a genuine supportive energy, which I sensed from the outset - when attending a new members' breakfast. Helen Bunker was sitting next to me and we're now on the Events Strategy Committee together and recently were fortunate to benefit from a pro bono communications skills workshop, which Helen kindly hosted. Valeria Rosa and Barbara Cremer also attended the workshop and we're in the process of reviewing each other's LinkedIn profiles. So helpful!
Do you think that business could do more to support the non-profit sector and if so how?
Absolutely! There is so much scope for greater collaboration between the corporate and not-for-profit sectors. Companies often tend to partner with large charities, but I would encourage City firms to support smaller charities where funds are sometimes more gratefully received. I've worked for both large and small charities and know that corporate funding can make a huge impact with smaller not-for-profits. It's great that CWN is supporting Haven House. Non-financial support can be hugely valuable, such as pro bono advice or expertise or volunteering to be a trustee - the treasurer on our Board at Grandparents Plus is a partner at EY. Businesses can help to raise awareness of key issues with their staff, such as kinship care, which is largely invisible despite three times the number of children growing up with relatives or friends in kinship care than in foster care. In London, there are 30,000 children growing up in kinship care – 20 per cent of the national total.
What would be your favourite place to have a coffee in London and with whom?
It would have to be Berners Tavern in the London Edition. I absolutely love the room with all the paintings on the wall. The wealth of amazing eateries makes me so proud to be a Londoner. It would be with Rosa Parks, whom my daughter is named after. Rosa Parks is often known as 'the first lady of civil rights' - I love her famous phrase: 'Each person must live their life as a model for others'.
---