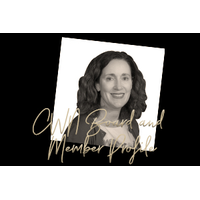 CWN Board and Member Profile: Ana Pacheco, Marketing & Communications Chair
Ana Pacheco, Chair of CWN's Marketing and Communications Committee, gives us a behind-the-scenes view of the network as well as her life outside it.
What's your typical week?
As the Client and Marketing Director for The Pipeline (we work with organisations to build a sustainable pipeline of diverse talent and help high potential women achieve senior roles), my week is very varied. I could be delivering a workshop sharing our 10 key observations to improve female progression in large corporates, outlining my vision to our business on improving how we attract our target audience to our website, or leading a session filming our alumni talking through their top tips.
What attracted you to working in sales and marketing?
Looking back, when I was at school I wanted to be a journalist, then a lawyer and then a fighter pilot! These all dropped off my radar for various reasons and it was when I was at university applying for various graduate schemes that I was drawn to the marketing induction programmes. My applications weren't successful and after a job in finance administration and then in events I got my first taste of sales and marketing in a junior business development role for a Benefits Consultancy. From there I started leading pitches and thrived on thinking about our offering from the client's perspective and how to get across how it would feel different partnering with the company I was working for, rather than delivering a standard proposal. I moved into running national client account programmes as well as leading sales campaigns there, and as I took on more senior roles I broadened my expertise to marketing strategy and tactics – the rest as they say is history.
How did you reach this point in your life and was there a defining moment/person?
Probably the most defining moment in my life, although it didn't feel like it at the time, was when my parents divorced which meant my Mum and I abruptly moved from Egypt back to England. We lived with my grandmother who was an absolute inspiration (she lived to 104 years old). She taught me never to give up and passed on a phenomenal work ethic. Similarly, my History and English teachers totally believed I could achieve anything I set out to do which I remember to this day (and they told us always to vote!).
What do you find inspirational/useful about the CWN?
So many things. The other women I meet at events, the expertise and camaraderie of my colleagues on the Marketing and Communications Committee, the ideas and experience of the Board members, the insights from our speakers. I find it particularly refreshing that our members hold such varied roles in their professional lives and yet when you meet them they are so friendly and open.
As a working mum and also the Chair of the Marketing and Communications Committee, how do you pick the opportunities you get involved with and juggle it all?
I'm not sure I do juggle it all successfully. However, when I had the chance to get involved with the Committee I jumped at it because I thought CWN was so inclusive and I wanted to do what I could to contribute to encouraging others to join the network so they can experience what I've experienced. Also, it's easier to juggle when you set up a strong support network – I'm fortunate enough to have a fantastic array of friends where I live and colleagues at work or in previous roles that I know I can call for help or advice.
What's the role of the Marketing and Communications Committee?
Our initial focus was to increase our interactions with members which has resulted in more regular newsletters, features (such as 'spotlight on' or 'coffee with' members) and updates on social media. Our strategy now is to create more planned touch points which link to our 2020 theme of 'Wellbeing', find ways of developing content with our members (e.g. in broader features on our newsletters/social media) and broaden our channels on social media to create more of a community feel (hence the launch of Instagram with motivational quotes and members' insights).
We all get involved by using our strengths or learning new skills which could be anything from liaising with a member to draft an article on an interesting topic, posting updates on social media or working with our charity partner to communicate ways in which we can all get involved. It's exciting, fun and certainly diverse. We are looking for members to join the committee so if this appeals to you then do get in touch.
Which achievement are you most proud of in your professional life and what are your top tips for our members looking to succeed in a similar way?
I'm really fortunate that there are several moments: from winning lucrative pitches that were a turning point for the business I was working with, sponsoring women to achieve awards or roles they aspired to, turning around teams that lacked direction and delivering a campaign which directly resulted in new business. My top tip would be perseverance - usually if you keep trying you'll find a way to get to where you want to be, even if it wasn't how you thought it would happen when you started.
What was the most challenging experience you've had in the workplace and what are your top tips for women to turn similar experiences into an opportunity?
Having worked in a Big Four firm for 15 years, moving to grow a start-up was a big shift as I didn't automatically have access to a large network at work. I quickly realised that it's important not to rely only on your operational network (typically at work helping you deliver your objectives) but also to build up a strategic network outside of your day job. Now I have a much broader network which I prioritise helping when I can as it has given me so much more confidence and meant I can add more value where I work as I learn every day from the people I connect with.
What career advice would you give your younger self?
Don't be so harsh on yourself – remember what you have achieved rather than what you haven't.
What do you like doing when you do have any down time?
Like most people, I don't have as much down time as I'd like but when I do, swimming, singing or chilling with my nine-year-old daughter are top of the list.
What's your guilty pleasure?
Buying Hello magazine before going away for the weekend or a longer holiday. Once I've opened that magazine I know I've left the office well and truly behind (I really can't believe I've admitted that to you all).
What are you reading (or watching) right now?
I'm reading 'Invisible Women' by Caroline Criado-Perez. Every person, whatever their gender or how they identify themselves, should read it. It is truly eye-opening as she explains how the smallest things are creating a huge gender data gap.
---