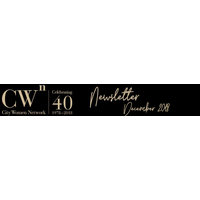 CWN Newsletter December 2018
Welcome to our new newsletter! In this bi-monthly round up we'll update you on developments and news at CWN, our events - both at CWN and with partner organisations - and what our members are up to. If you would like to hear about particular issues, please get in touch! 2018 was a memorable year as we turned 40, with inspiring events, panel debates and opportunities to connect with our members. Whilst proud of the CWN legacy, we remain alert to 'focus forward' on issues that matter to our members.
We are recruiting for an expert to advise the CWN Board on diversity and inclusion. We are keen to hear from our members - please get in touch for more detail on the role. We also recently surveyed our membership to hear about what you value most (and less so) about CWN - stay tuned for our feedback!
Spotlight on Monica Fisher
Monica Fisher, founding member of CWN and former executive with Bank of America and First National Bank of Chicago, shares insights from her career and tells us what inspired her to become a founder member of CWN.
Back in the late '70s, banking was still a man's world. Most women were secretarial or clerical, so there weren't many professional women in any one organisation. I was invited to join a 'Little Ladies of London' lunch. This tongue-in-cheek name was our spirited response to the all-male clubs and Old School Tie networks. It wasn't long before CWN was born.
Read more about Monica's career working in Eastern Europe, putting together cross currency interest rate swaps, encouraging school girls to aim high and climbing the Matterhorn!
External Partners and Events
We'll bring you news here on our partnership programmes and events. Please visit our External events page for updates and how to book The Royal Institute of International Affairs CHATHAM HOUSE Responsible Business Conference in London on 29 February 2019. We are excited to support the RIIA for this event. The agenda and speakers will consider the role of corporate governance and leadership in setting standards and promoting responsible business in a digital age.
We are very grateful for our members' and sponsors' continuous support to benefit our Charity of 2018-2019 Haven House. We were delighted to attend the Haven House Annual Ball in October. To invoke the spirit of Christmas, please check HH's website for some ideas on how to raise money and awareness.
Next Events
As we look forward to 2019, please visit our Events page for details of our annual Winter Drinks in January, followed by RBC hosting Kate Phelp to discuss resilience in February. In March, we'll be exploring changes in the UK economy in partnership with Nomura. In the second quarter, we'll delve into Health and Wellbeing as essentials for good leadership.
Our members' drinks and breakfasts will continue through 2019 and we will also revisit our most popular events including the Psychology of Failure - Part II, our annual cultural event and our Masterclass series with RADA and Business School partners.
Reflections
Events Strategy Committee member Geraldine Gallacher reflects on our recent reverse mentoring workshop.
CWN advises and supports Fractio Vitri (FV), a cross-sector network for early stage career women. We hold a few joint annual events and this year we tried out Reverse Mentoring, hosted by the law firm Howard Kennedy. Given our relative ages and experience, we make the ideal composition for such an event.
Click here to hear about what our CWN members learnt 'ambitious' means for the next generation of contributors
And Finally...
We look forward to seeing many of you at 67 Pall Mall, the exclusive wine club in the heart of St. James's for our New Year drinks on 23 January 2019. We'll sample some fine wines and learn from some of the most prominent female wine experts.
CWN wishes all our members a Merry Christmas and Happy New Year!
---