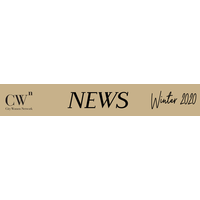 CWN Newsletter December 2020
As we approach the end of 2020, it is time to reflect on the many challenges we have overcome this year, look ahead to our plans and focus for 2021.
For some, the start of the New Year is filled with hope and possibilities. A time of new beginnings. An opportunity to plan ahead and get excited about achieving some of the aspirations on our wish list. Throughout this year, the Covid pandemic has presented challenges beyond what many of us could have reasonably imagined, requiring an immediate re-think of how we live our lives. Many of our career goals and aspirations had to take a firm back seat, whilst we concentrated on our professional survival and personal well-being.
During 2020, many of us have had the opportunity to consume more news on a daily basis than might normally be considered healthy for us. Alongside this, work-related pressures, health concerns and family issues have meant we have been unable to do some of the things on our wish list that normally keep us going during these times. With the increasing focus on the impact of the pandemic on our mental health it is also clear that the need to look after our physical and mental well-being is becoming increasingly important.
As we approach the end of the year, now seems as good a time as any to reflect on how we have modified our lives during 2020 as well as what we want and hope for in 2021. What aspirations do we have for 2021? What's possible? What has been good for us, despite the pandemic and what do we want to draw a line under? How do we move into the New Year in a positive frame of mind? There is plenty to reflect on.' We thank Cathy Wade for such a relevant observation.
To reflect on 2020 and find inspiration for 2021 our newsletter covers:
---