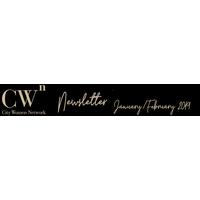 CWN Newsletter January-February 2019
Welcome to the first newsletter of 2019! We kicked off the year with our Members' Winter Drinks in 23 January at 67 Pall Mall wine club. Member Ana Pacheco reflects on the evening here.
At the end of last year, we conducted an online survey of all CWN Members. Thank you to everyone who participated and provided valuable insights on their experience as a CWN member. You can read about what we heard from you below.
We are excited to announce our collaboration with Women on Boards to give CWN members access to Women on Board's Boardroom Insights series, find out more below, and do check the CWN events calendar for plenty more coming up.
We are making progress with our search for an Adviser on diversity and inclusion, but would still like to hear from you (until end February) if you or a contact may be interested. Further information is on our homepage. Finally, in our member Spotlight this month we talk about the internet of things with Sue McLean, technology expert and Partner at Baker McKenzie and Women in FinTech Power Lister.
External Partners and Events
We are excited to partner with Women on Boards to provide CWN members with access to Women on Boards' Boardroom Insights series which covers a range of Board topics. The first event of our first collaboration, taking place on 7 March, explores Cross Sector Boards. Participants will be introduced to cross sector board opportunities and will hear from a panel of board directors with a wealth of experience. Read more about the event and book tickets on our external events page.
We are also supporting Chatham House's Responsible Business Conference taking place on 28 February. Topics include corporate responsibility in the digital age and the current standards of practice for diversity and inclusion. Find more information on our external events page.
Our Charity of the Year, Haven House's annual Women in Business Lunch will take place on 5 March at the RAC in London, hosted by CWN President Emeritus Sandy Lucas. Click here to find out more and to book individual or table tickets.
Membership Survey
During the final quarter of 2018 we conducted an online survey of all CWN Members supported by a selection of interviews by telephone. The response to the survey was extremely positive, with nearly 30% of our total membership answering the online questionnaire. This feedback and commentary was further reinforced by Members' insights received via the one to one calls which formed part of our overall detailed analysis.
Thank you again to everyone who participated in the survey and provided such rich insights on their experience as a CWN Member. In particular, your thoughts and ideas as to how CWN can continue to provide real value through what we do and support you in your role in the workplace were extremely valuable.
Click here to review the key findings from our Membership Chair Tracey Groves and importantly what's next!
Spotlight on Sue McLean
Sue McLean is a partner in the IT/Commercial Practice Group at Baker McKenzie. She has been named in the Women in FinTech Power List for three years and is on the editorial board of the Journal of Digital Banking. Get the inside scoop from Sue as she shares her career insights and tips, and what attracted her to working in the digital space.
Click here to read about how Sue started off in tech; made partner, learned to embrace fear, got the Twitter bug and puts mentoring top of her list to help other women achieve the same heights
Next Events
Do check our calendar to review all our upcoming events. Don't miss out on our International Women's Day lunchtime talk 'Beyond Brexit' with Stephanie Flanders, Senior Executive Editor of Economics at Bloomberg on 12 March. Find out more and book your tickets here.
Other events include our Spring Membership Drinks for Current and Prospective Members on 2 April, and our AGM to be held on the morning of 26 March at Haymarket Hotel.
And Finally...
Join hundreds of others to celebrate International Women's Day at CARE International's #March4Women event on 3 March at Westminster Central Hall. Hear from inspirational speakers like Lady Hale and Helen Pankhurst, singers like Beverley Knight, and people who have challenged and changed the law to tackle injustice and inequality. The event is from 2.15pm to 4.15pm; tickets are available from the Care International website
In Memory
Joyce Arram, a leading pioneer for training women in law, 1935-2018. Joyce worked as a legal executive for Alexander Johnson Solicitors and was involved in many charity and voluntary organisations. Joyce was an active CWN member from 2006 – 2017 is remembered fondly.
---