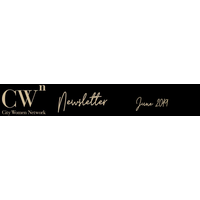 CWN Newsletter June 2019
At last the evenings are lighter, which means the summer season of social and sporting events has started. The highlight being the CWN's Annual Summer Drinks on 10 July. Did you know that as a member you have two complementary guest tickets? Make the most of it and bring your contacts so they can experience themselves what it's like to be part of CWN and, of course, have some fun with like-minded professionals. In the meantime, if you do know anyone interested in becoming a member, our next CWN Prospective Members Breakfast is on 3 July at 8am. In addition, we're thrilled to give you advanced notice of our AI themed event on the evening of 18 July with Paul Armstrong which our corporate sponsor, ANZ, is kindly hosting. Look out for a 'Save the Date' email arriving in your inbox soon.
Our annual drinks also provide an opportunity to help others, with our silent auction to raise funds for Haven House Children's Hospice, CWN's nominated charity. If you have any experiences or prizes you could share for us to include as part of the silent auction, it would make a big difference to what Haven House can provide to children and young people – please email our admin office with the details.
We've had some fabulous events since our last newsletter and we're delighted that Stem and Glory, who served us a delicious meal at our supper club, now offer 20% discount to all CWN members and guests. Also the Gut Stuff who gave the fascinating introduction to gut health are offering a discount to their Gut Diary Book – for more details click here.
We are already receiving positive feedback following the recent launch last month of our partnership with Women on Boards and are pleased to announce a similar collaboration with NEDonBoard. Working together with these organisations we are in a position to provide members access to a broader range of options, at preferential rates, to develop their skills and networks. We will keep you updated on our external partnerships by email, in the meantime, we've included more detail on our work with NEDonBoard below as well as other interesting stories.
As always, if you'd like us to cover anything in particular, please do let us know by emailing our admin office.
Articles in this issue:
Making Sense of AI: The History, the Hype, and the Hard Truth
Artificial Intelligence: a timeline with key highlights
---