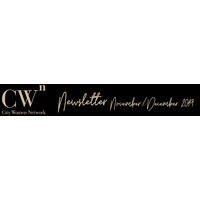 CWN Newsletter November/December 2019
As we come to the end of the year, we are delighted to include in this newsletter features on inspirational women, updates regarding changes to the Board, a run-down of the latest books to read on gender and leadership as well as the usual reminders of events in the diary.
Firstly, we wanted to let you know that the CWN Board are sorry to announce that Sally Todd will be stepping down as President at the end of this year. Sally has made a fantastic contribution to the continuing evolution of CWN and she will be sorely missed. We send Sally all our good wishes for her future endeavours. For those who weren't able to be at the recent Members Forum where this news was originally shared, Sally will remain an active member of the CWN community and you will see her at upcoming events where you will have the opportunity to extend your thanks and gratitude first-hand.
From the 1 January, Uma Cresswell will take on the role of acting President until our AGM in March – it is exciting to have Uma leading us through the next chapter of the CWN journey.
This edition also contains not just one, but two interviews with inspirational women. To celebrate the 100th anniversary of the Sex Disqualification (Removal) Act in December 1919, our 'Spotlight on…' features Fatema Orjela, Partner at the law firm, Sidley Austin. Highlighting a member who is a lawyer is timely as the act made it possible for women to qualify as barristers or solicitors for the first time.
The other interview is with Dawn Jackson, our Inclusion and Belonging Chair on the CWN Board. You may remember that we shared her appointment with you in previous editions and we wanted to give you an opportunity to get to know her better. Do take the opportunity to speak to Dawn when you see her at future events.
As always, our newsletter includes a reminder of upcoming events in the CWN calendar. And finally, as Christmas is around the corner, we've included a selection of books published in 2019 that you might want to put on your present list!
We hope you find the content in our newsletter useful and if you'd like us to cover anything in particular, please do let us know by email.
---