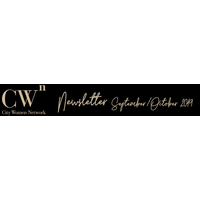 CWN Newsletter September/October 2019
The summer drinks event seems a wonderful distant memory partly we hope, because you all managed to get a break and enjoy the lovely weather at home or abroad; but also because so much has happened since then for women across sport, banking and business.
We started the summer all transfixed by the football played in FIFA Women's World Cup held in Paris, which culminated in the US women's national team winning the trophy. The success of women in Paris continued to be played out across Europe in banking and politics as, for the first time, two women were appointed to run the European Commission (Ursula von der Leyen) and the European Central Bank (Christine Lagarde). This is a historic step towards seeing more inclusion at senior levels. Similarly, we are always delighted when our CWN members and partners progress their career journey and none more so than CWN's former President, Brenda Trenowden, who recently joined PwC UK as a partner in its people consulting business.
As always, our newsletter has an interview with another inspirational role model, in this edition Jane Olds, who is the Head of HR at CWN corporate partner BCS Consulting and an update on our planned events. We've also included top tips for using LinkedIn following requests from members who want to use social media more effectively.
As always, if you'd like us to cover anything in particular, please do let us know by email.
Articles in this issue:
---