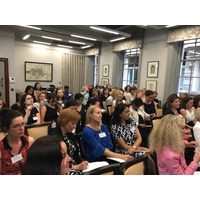 High Impact Communication
On the evening of Tuesday 13th June, we were delighted to have our guest speaker, Sophie Clark from Denison Clark, speak at an event on the subject of "High Impact Communication" in the attractive setting of the Brand Exchange members club near Bank, in the city of London.
As a communications expert in helping individuals and teams in organisations improve their communication skills, Sophie shared her wisdom and insights on helping people to speak with confidence and speak with impact.
Sophie delivered a lively seminar where we listened to her insights and observation, woven with the participants doing some individual exercises in the moment. We then worked in pairs so as to enable us to learn from each other whilst networking and getting to know other participants.
Top tips included the importance of pausing to allow the audience time to digest the information, sharing your career success and using the right language to have real impact.
Sophie shared her golden rules on eye contact and body language. Sophie's creative use of video, observing people in the public eye and their various communication styles, helped illustrate her points in a colourful and impactful way – role modelling and providing practical take-aways for all in the audience.
After a lively Q&A session, conversation continued over drinks and canapes between guests until well after closing time .
---