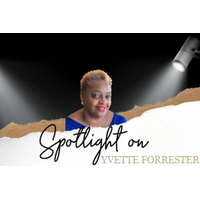 How has the pandemic shaped us today? by Yvette Forrester
Vice President, BNY Mellon | Diversity champion | Charity Trustee | Mentor | CWN Board member.
How has the pandemic shaped us today?
In December last year there was a last minute scramble for my eldest to complete his personal statement for university. He did it in his lastminute.com style and his future was mapped. Well at least that's what we thought. Although we are in the midst of preparing for him to go to University and his brother just starting Year 11, for both there will be a sense of promise, new beginnings and I suspect dread.
They are both entering new phases in their lives with the Covid cloud hovering. future marred by a pandemic is never easy to reconcile – this is new for so many and in a way I am glad they are sheltering in education. The level of resilience to navigate this new normal will have to be extraordinary. We've had to flex with this stop/start way of living moving in an agile way most of us have never experienced.
Lockdown, with its benefits of getting to spend time at home. The eerie and quiet stillness of spring and the horror as Covid took hold of so many around the world. For some this opened the door to mental health challenges, unspeakable domestic violence and overwhelming strain with our medical saviours.
Several friends and acquaintances told me of the Covid deaths they had the misfortune to experience and in the early days it did appear that Covid did not discriminate. However, data has shown that our Black, Asian and Minority Ethnic family, friends and colleagues had their lives and anxieties blighted by the disproportionate amount of deaths experienced.
Then the social movement took hold, launched by some gruesome deaths at the hands of the police, racists and those who could use the colour of their skin in a privileged way to harm others.
With the outpouring of scorn and the show of support from many for those suffering at the hands of Covid and social injustice we are seeing a new dawn.
Months on, we see the City landscape changing as more people work from home and less coffee and sandwich shops are visited. This downturn in activity has heralded the start of an economic decline for all to see whether in retail, financial services or aviation industries. As well as to be expected, employment is now going through a contraction as companies look to stem the outflow of cash and manage for an uncertain future. But still we must remain agile.
It appears there are very few winners in this new normal but there are steps we can take to ensure we get through this:
We all need to educate ourselves so that we are vigilant when it comes to the tentacles of Covid.
We need to educate ourselves so we truly get to grips with the unequal and inequities that Covid has shown and level the playing field.
We must not underestimate the many forms Covid still takes whether it is affecting those near to us or be it one of the over 42,369 (according to the government's data) whose lives have not been spared.
Where we need to speak up in the face of any form of racism – explicit or covert – we must all speak up and speak out against this.
We have to be agents of change whether it is in our behaviours with the wearing of masks or confronting our biases and how this can affect others.
We have to have a generosity of spirit and kindness in a time where we can help those less fortunate than ourselves.
As I have been saying to my boys, we need to flex, adjust, adapt and be kind. This is our time and this is our new normal.
---