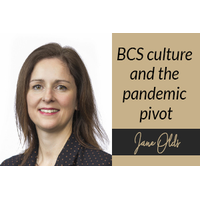 Continuing in the series 'How has the pandemic shaped us today?' Jane Olds, HR Director at BCS Consulting reflects on how the Company's culture has supported the business through the pandemic, and how it's proving to be a key driver of the firm's continued success in the new world of work.
Hi Jane, perhaps we could start with a quick introduction?
Hi Imogen, yes of course, and let me start by saying how delighted I am to be part of this newsletter for CWN. My HR career spans over 20 years now, and has included working with large corporates as well as small, family run businesses. I joined BCS in 2019 with previous experience of the financial services industry but not consulting, so the first few months involved a steep learning curve, not least because BCS is an employee-owned organisation which was also new to me.
Tell us a little bit about working at BCS… how did you manage employees through the transition to remote working?
To answer that question, you need a bit of context. BCS moved to an employee ownership model in 2018 for many reasons, one of which was to protect the strong and supportive culture that everyone here loves so much. When the pandemic took-off and the time came to shift our whole business to a remote working model, I firmly believe that our collaborative and unique culture was to thank for the ease and success of the transition.
As you would imagine for a consulting and software firm, many of our team are consultants who are well used to working in a flexible and fluid way and that meant the transition to home working was relatively seamless. That is not to say that a lack of space or finding suitable working environments at home was easy for many in our team, but the concept of working remotely wasn't a new one.
Our first action was to prioritise support for employees to purchase any equipment they needed to make their physical workspace at home better. From the outset, we focused on supporting employees' health and wellbeing, while keeping a focus on their engagement and maintaining our highly interactive, community culture too. It wasn't always easy of course – we're a very social bunch and our people really began to miss this part of the jigsaw.
Yes, lack of work interactions was and still is, a big issue for lots of people. Can you talk us through some of the initiatives BCS instigated to make up for it?
As well as advising our managers to prioritise regular catch ups with their people and teams, quizzes soon became regular all company events along with virtual coffee catch ups. Some of the innovative activities we introduced to maintain motivation levels included hosting an online Awards Evening with a 'live chat' function as well as running a virtual 'Big BCS Get Together' at Christmas which saw people move between different 'virtual club and team rooms' to catch up with colleagues and friends they hadn't seen in a while. On both occasions we sent everyone a 'Just Eat' voucher to splurge on the takeaway of their choice to enjoy during the event or whenever it suited them. These events took a lot of time and effort to lay on, but the feedback was incredible, and our people really appreciated what we were doing. The vouchers were a massive hit too!
In addition to virtual events, we also refocused our priorities from a performance management perspective. We dialled down the usual focus on performance reviews and increased our focus on prioritising the health and wellbeing of our team. The brief to managers was to do everything they could to reduce the pressure on our people to work and perform in exactly the same way as they did before Covid struck. This was especially true for those that were suddenly being faced with childcare, home schooling and other caring duties on top of their day job.
We also revised annual holiday policies; we understood why people were taking less time off, but we also knew how important taking regular breaks and down-time would be to minimising the potential for burnout. Regular surveys helped us to understand how everyone was coping and identify who was most under pressure from factors such as needing to shield. This provided us with vital information on what support was needed and where, and really helped us to plan ahead in terms of potential changes in work lifestyle.
And what about new joiners… how are you making sure everyone feels welcome?
For new joiners, the start of their journey with BCS has been very different to the usual experience and that's why we moved heaven and earth to ensure they have a great induction into the business.
From an HR perspective, we obviously speak to new joiners ahead of their onboarding to ensure equipment has arrived and they are all ready to go. We also make sure we only have one or two people starting on the same day so that everyone has enough time and opportunity to ask questions and catch up with our leadership team individually during their first week. Our induction process was also adapted and lengthened to ensure new employees have time they need to view all the new online learning materials that would have usually been talked through face to face and digest ahead of starting a new engagement. Feedback suggests this has made a huge difference.
One of the things that makes BCS so unique are all the clubs and societies that are part of our all-inclusive, diverse community. Finding others with the same interests and hobbies as is a great way to encourage new joiners to get socialising and settle in quickly. As well as helping them meet others, we also provide a network of ways for new joiners to get to grips quickly with their role and the business via their "Buddy", Line Manager and introductions to other leaders in the business. All in all, I think we do a pretty good job of providing opportunities for people to feel welcome, learn about BCS, our ethos and the everyday 'norms' that we believe make it such an outstanding place to work.
So, what happens next Jane? Are BCS planning for their teams to return to the office five days a week as before?
At the beginning of Lockdown, we mobilised our "Incident Management Committee" (IMC) made up of a number of senior leaders. The committee was already in place, it just hadn't been called into action before. Once mobilised, the team met (and continue to meet) weekly to discuss ongoing events and update our SharePoint Hub so that all employees have the latest business plans and insights relating to Covid-19. Our main focus at IMC is to discuss any current issues as well as what the future of work at BCS looks like moving forward.
We have all learned that we can operate efficiently and effectively, remotely. That said, we also understand that many of our people are keen to return to the office, albeit not on a full-time basis. I expect BCS to move to a hybrid model of working like so many other firms, with our office space being used mainly for team collaboration and get-togethers. Time in the office will be spent in team meetings, briefings and training, with desk work conducted largely at home. It remains to be seen where our clients want us to work but, wherever it is, we'll be ready.
Jane, are there specific tactics or operational structures that work well and you think will remain?
The IMC has been a great central structure allowing for centralised strategic reaction. Sharing tactical, open communication via our SharePoint Hub has also worked well – including everything from tips on homeworking to reminders about our medical care, Employee Assistance Programme (EAP) and how to lead 'Walk and Talk' meetings. Our IMC is seeing the future of work debate as an opportunity to unlock ways to achieve greater wellbeing and work life balance for our employees that will only enhance our inclusive and authentic culture, whilst remaining a commercial operation.
What are your reflections on the last year Jane? What positive or negative outcomes have there been for BCS and its people?
We are at the beginning of conversations around what the next phase for our employees will be. I do know that it will be an iterative process where we will continue to listen and learn but, ultimately, this is an opportunity to establish a better way to work with far-reaching improvements to efficiency and work/life balance to be had.
One key reflection I have on the year just gone is around the Black Lives Matter (BLM) protests that occurred in early 2020 in the US and the UK. It triggered a huge conversation at BCS and I think, combined with Covid anxiety, homeworking and the lack of social interaction, the outpouring of support was huge and I was delighted by the way our BCS community stood together on this subject.
As a result, we fast-tracked the planned launch of our BAME Network, with our Women's Network taking shape soon after joining our more established LGBTQ+ Network. These groups came together to share their knowledge and experiences with the wider team which has proved enormously engaging and successful. It seems incredible to think that during such a difficult time these, and many other initiatives were born and have become central to the future of BCS.
Jane, thank you so much for your time, and for sharing these great initiatives and the positive legacy that the last year will leave on BCS. A lot to think about, thank you!
---