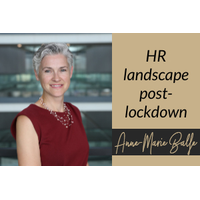 HR landscape post-lockdown by Anne-Marie Balfe, EMEIA Financial Services Talent Leader for EY and CWN Membership and Partnerships Committee Chair
Anne-Marie Balfe, the EMEIA Financial Services Talent Leader for EY and CWN Membership and Partnerships Committee Chair provides us with an insight into how the HR landscape within the UK has been impacted by the COVID pandemic and what we can expect it to shaped to following post-lockdown. In her more than 20 years of international human resources experience, Anne-Marie has worked in recruitment, learning and development, organizational development, performance management and diversity and inclusiveness.
As we emerge from lockdown across the UK, within Talent (HR) we've been focused on several priorities. First and foremost, our key focus has been on the health and wellbeing of our employees. For the past 14 months our people have been working almost exclusively from home. We've seen an increased level of productivity across our business, however, with it also increased fatigue and burnout. To support our people, we've introduced additional wellbeing programs, encouraging managers to have meeting free days, and asking people to take annual leave to recharge.
Now as lockdown restrictions ease, we are focussing on return to office planning, and what that will look like for our employees. The last 12 months have demonstrated that knowledge work can be delivered very effectively in a virtual setting.  Tools such as Zoom, Teams, Slack have facilitated teaming in a virtual environment. However, at the same time we understand the need for a physical space for collaboration and innovation.  Onboarding and training new team members and establishing new teams or work groups is becoming harder to accomplish virtually.  Consideration needs to be given to this new workspace – more space for collaboration and group activity.
The COVID pandemic has enabled us to reimagine how work is delivered and the policies we have in place. Many organisations are looking to new hybrid working models, a combination of working from home and office (1:4; 2:3 etc).  We're considering how organisations can approach flexibility for their employees. We are considering questions like Can you provide full flexibility, a more structured approach, or possibly a combination of both?  Are you attempting to promote collaboration, teaming, innovation? All these factors need to be carefully considered based on the type of work (routine, independent, collaborative etc), and the teams. 
To gain a further insight, CWN asks Anne-Marie a few questions:
How has the lockdown shaped recruitment overall, and what can we expect to see in the near future?
In the first few months of COVID, we slowed, and in some cases paused recruitment activity, this was coupled with a significant slowdown in turnover. Like many organisations we gradually restarted in Q3/Q4, with a focus on effective virtual onboarding of employees. Since the beginning of 2021 the financial services and professional services are seeing an increase in recruitment activity as the UK begins to emerge from the pandemic.
There has been a report produced by Mckinsey & Company on gender inequality and Covid-19 effects - showcasing that women have had  the most hardship in dealing with economic difficulties:  
At the onset of working from home, there was a belief that this would "level the playing field" for women in the workforce.  We soon realised that Work from Home has very different impacts on people depending on their circumstances.  Women have shouldered the burden of home schooling, caring and additional domestic responsibility, and we've seen a significant increase in women leaving the workforce in many sectors and across many countries. We've also seen junior employees struggle with inadequate workspace in shared accommodation, and higher numbers struggling with mental health issues, stress, burnout, and loneliness.
Now with lockdown measures easing, can women expect a more positive outcome of more opportunities emerging or is it now they can expect to face a larger competition as recruitment efforts are seeking for employees globally?
With lockdown measures easing, organisations have restarted their recruitment efforts. The pandemic has proven that roles that be flexible and changed the way we view look at the workplace and teaming. With an increased focus on finding the right talent, this will present interesting opportunities with greater flexibility for employees. However, the pandemic has also accelerated transformation in many organisations, with more processing being automated or moved offshore.
What are the top key tips you can give to the women who are looking to go kickstart their job search?
As a member of CWN please leverage the network to support your job search through networking and professional development. Consider your broader network, can they introduce you, or support you in your job search? There is a wealth of online learning available, use this time to further develop your skillset. CWN provides access to lectures from Warick Business School and our Courageous Conversation series provides support and content to assist you within your working environment. Employers look for people who demonstrate the ability to learn and re-learn throughout their career.
What are the top key tips you can give to recruiters to ensure equal opportunities are considered during recruitment efforts?
To ensure that equal opportunities are provided to all candidates, I ask recruiters to review the job descriptions to ensure the language is inclusive and encourages applications from a diverse range of candidates.
Research suggests that female executives take longer to change jobs, so it might take more work to encourage/persuade a female executive to apply for another role. This takes work on the part of the recruiter, and the prospective employer.
Additionally, I ask that every shortlist is diverse, with a focus on Gender and Ethnicity. If the shortlist is all male, it's not a shortlist.
---