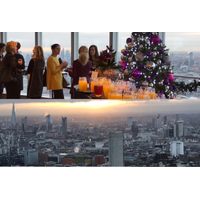 Leading Through Uncertain Times - Insights from Neuroscience
A great event in a great location. Hilary Scarlett treated us to a really fascinating insight into recent findings in neuroscience and the implications of this for organisations. After a clear and compelling description of the basics about the brain we learned some new insights such as;
Your brain may only weigh 2% of your body weight but it uses 20% of your energy. The impact of negative stresses such as a difficult relationship at work can use up nearly all of that energy.

Brains are attuned to threat and so you need to think about how you position tough feedback in performance management situations.

Brains like autonomy and like being given a choice. This has significance for a command and control management style.

Brains don't like unpredictability and crave certainty.
Hilary gave us a great model for using neuroscience in a practical way. It's the mnemonic SPACES.
Self esteem, Purpose, Autonomy, Certainty, Equity and Social Connection. These are all the things that brains love and worth considering when you are looking to motivate others. But remember, everyone is different and some will resonate more with different individuals and at different stages of their life.
The event was certainly "heightened" by taking place at the top of the BT Tower and the icing on the cake was when it revolved at the end of Hilary's presentation!
---