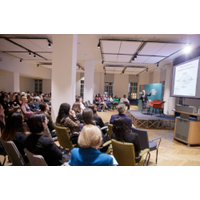 Masterclass with King's Business School: Purposeful Leadership and Meaningful Work - With Professor Katie Bailey
Hosted by King's Business School, over 120 CWN and King's alumnae came together at their new premises in the beautiful Bush House on Aldwych to learn more about finding meaning at work.
Professor Katie Bailey explored the future world of work where the aim is no longer merely financial performance but instead we are now in a world where the so-called triple bottom line of people, purpose and profit becomes reality. She drew on recent cutting edge research into purposeful and ethical leadership and meaningful work and asked what businesses would look like in this new world order, exploring the barriers and enablers of successfully creating and sustaining an ethical workplace.
Katie is a thought leader on meaningful work, employee engagement and strategic HRM. She is the author of over 180 articles, papers, books and reports, including 60 peer-reviewed journal articles on the topics.
Following the presentation, all the guests enjoyed a networking reception over drinks and canapes, meeting CWN members as well as the guests from King's. This is the first event in which we have partnered with King's Business School and we hope it may be the first of many!
---