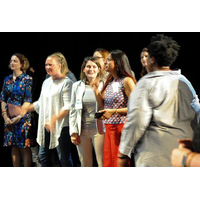 One Voice: Masterclass with RADA in Business
Yes, you can sing!
Can you sing? Most of us will say 'no' to that question.
This Masterclass, One Voice, held on 19th September, taught us that it is possible for anyone to sing, and how powerful and energising it is when done as a group.
This was the third evening event that CWN organised in partnership with RADA in Business. After focusing on posture and presence in earlier sessions, we now experimented with another essential leadership tool: our voices.
In a lively session of an hour and a half, RADA's Vocal coach and renowned West End musical director, the incomparable and fearless Tom Wakeley encouraged, cajoled and orchestrated some fifty attendees into performing as a choir - for the final performance when everything came together.
Find your unique voice
Tom began the evening by helping us better understand that often under-utilised leadership tool: our voices. On our feet within minutes, Tom started off with practical breathing and vocal exercises. There was no time to be self-conscious as our attention was cleverly directed to feeling what was going on within our bodies with each breath as we sustain sound.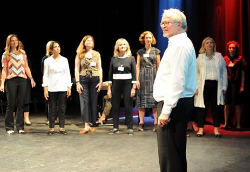 Referring to Kristin Linklaters' book 'Freeing your natural voice', Tom explained how we each have a natural resonance and a unique voice that is most effectively used when linked with our emotions. Also, any tension in the body will affect the quality of your voice.
What if we replace "I can't" by "How can I?"
We moved right into the action when Tom introduced the lyrics of the song we were about to perform: 'The Rhythm of Life' from the hit musical 'Sweet Charity'. The attendees did not have any time to have second thoughts, it was time to use those voices!
Tom organised the singers into groups, giving them roles, guiding their voices and encouraging them 'to do something out of their comfort zone'. It was indeed a Masterclass in fostering a growth and change mindset.
Stumbling over words, losing and finding text, laughing out loud, we learned about pitch and volume, tune and harmony, choreography and movement. We savoured our success when things came together for the final performance.
The power of the human voice
This masterclass was a reminder of the power of the human voice. It also showed what rewards await when you push your boundaries.
The buzz at the networking drinks afterwards reflected the sense of achievement and the energy and joy that came from performing as 'One Voice'.
The evening was a powerful testimony to how we can work on our confidence and learn to express ourselves while supporting others.
This piece was inspired by a blog written by one of our attendees at this event, member Beverly Landais, who has captured the essence of the evening so beautifully. Thanks Beverly!
---