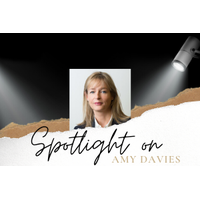 Spotlight on Amy Davies
Amy Davies reminds us how it is possible to have not one but two successful careers. After a 15-year career break, Amy is now VP at Autonomous/Alliance Bernstein. She shares her top tips on securing your ideal job even when it might seem a remote possibility, her love of art and delivering client work during lockdown.
What do you do/what's your typical day?
As a VP in Equity Product Sales for Autonomous/Alliance Bernstein, my role is to market the research output published by our sell-side analysts to new and existing clients globally. Managing 40 accounts means I engage with all aspects of the business including analysts, sales, compliance and the accounts teams. My responsibilities are varied and involve pitching to clients, supporting new and existing clients as well as writing a weekly newsletter to highlight recently published work.
How did your career in financial services come about?
After a successful career in Equity Sales for three investment banks I started a family and flexible working was not an option. Once my three children were all in secondary school, it felt like a 'now or never' opportunity. I heard of a number of returner programs and a push to get women back into financial services to help improve the gender balance. After a 15-year gap, I found my position through The Return Hub four years ago.
What were the biggest hurdles you faced returning to work and securing a job? How did you overcome them?
Having talked to many colleagues, most women feel a loss of confidence in their abilities after having children and a career break. It is very common to think "who would want me" after such a big absence, but we all still have the skills we developed in our career, so I think the biggest hurdle is the procrastination. The work/life balance was also a concern when I returned to work. I was not sure how it would impact our family life. I think it is easy to be hard on yourself as a woman and try to do it all, so I found there were things I had to let go of and in most cases the family didn't even notice! Juggling commitments will always be there, but I've found solutions to problems and try to make sure that I don't overthink it.
Do you have any top tips you can share to help other women returning to work?
I was fortunate enough to have been introduced to a "Returner" by an old colleague. She told me to contact as many connections as possible to ask them about their positions as it may be that a delineation of your previous career might suit better. It also helps to brush up on your skills. I am lucky enough to like technology and I had a good understanding of all the office software. To supplement that, I took some online courses as a refresher. Most workplaces offer developmental training which I would recommend taking full use of.
What do you find useful about the CWN?
I think some of the "Returner" programmes offer a lot of structure; my own experience was a bit more "hit the ground running" in hindsight. So, I looked at Women's networks to join in the hope to meet people to talk to and share experiences. I haven't been as active as I would have liked as we were acquired by a larger firm (Alliance Bernstein) a year ago, but, I have really enjoyed the events I have attended and talking to an impressive variety of ladies.
What's your guilty pleasure?
My guilty pleasure is my interest in contemporary art forged by going to a Young British Artist show back in the 90's. After the birth of my first child, I scratched an itch and completed a contemporary art diploma. When I returned to the city, I realised that I would have to give up being a volunteer 'Tate Modern Guide' which I loved and still miss. Lockdown has been really interesting as many galleries have opened virtually and I have been watching inspiring programs on art. Frieze in the USA was cancelled so instead they have a virtual show, which I am enjoying. BBC iPlayer has a behind the Museums series which is fascinating.
What would you say to encourage others to spend more time with art?
I am time-poor but it is important to have moments away from family and work. I really enjoy my art viewing as it feels so removed from financial services, I also make time to play club tennis and catch up with friends.
Which is your favourite art gallery to visit in person?
I worked at Tate Modern for nine years, initially as a Visitor Experience Volunteer and then as a Guide. I met the most fascinating and committed volunteers from all walks of life. I was there for the unveiling of the new extension and the 24 hours opening event. If I need to get away from everything, I visit there for an amble amongst the collections.
What have you missed the most during lockdown?
Lockdown has been extraordinary, I am sure like many of us, I cannot quite believe it has happened. I have been working as before in my role but remotely. Juggling everything has been a challenge but I really can't complain about my own experience. We had a Work Girls Night Out which was great fun and I realise how much I miss seeing my colleagues and hearing their stories.
What's the first thing you want to do once we know it's safe not to stay at home?
I can't wait to see my family, my mother is elderly with underlying health issues so we have had to stay away.
What are you reading (or watching) right now?
I am reading Hamnet by Maggie O'Farrell and I am binge-watching Normal People (BBC), which is excellent. My children made me watch Tiger King (Netflix), which is extraordinary, and they constantly quote from the show.
Amy Davies was talking to Ana Pacheco, Co-chair of the CWN Marketing & Communications Committee.
---