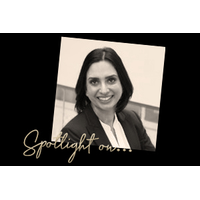 Spotlight on Suki Gill
Suki Gill, CFO for ViacomCBS of UK/Australia region, talks about life in media, mentors and confidence. She shares how embracing constant change can be an opportunity if you get comfortable with uncertainty, which is incredibly pertinent in the current climate.
What do you do/what's your typical day?
I am CFO for ViacomCBS for the UK/Australia region, leading the finance function for well-known brands such as Channel 5, MTV, Nickelodeon and Comedy Central. As well as supporting the leadership team, managing budgets and reporting on financials, a significant part of my day is currently spent working on major transformation programmes within finance and the wider business, in partnership with colleagues across the globe.
What attracted you to becoming a CFO and working this industry?
I was keen to get a solid business grounding when I left university, so training as a Chartered Accountant was a great route to achieving that goal. I have always been an avid media consumer, whether it be TV, cinema or music, so jumped at the opportunity of working in the sector.
What do you find inspirational/useful about the CWN?
The opportunities to meet like-minded professional women and share experiences. Everyone is so warm and welcoming at events, and the topics covered are highly relevant for women in business.
What is your background to reaching this point in your career and how has it defined you?
I qualified as a Chartered Accountant with Arthur Andersen which gave me an excellent start to my career as the training in professional service firms is second to none, and it was also a lot of fun being part of a large graduate in-take as it eased the transition into the world of work. I have subsequently held a variety of roles in the media sector at Sony Music, Capital Radio Group, Channel 7 (Australia) and Sony Pictures International which have all contributed to getting me where I am today, both in building business and leadership experience. I couldn't have made this career journey without the supportive managers and mentors who have guided me along the way, plus the benefit of having executive coaching to help get the best out of me.
Which achievement are you most proud of in your professional life and what are your top tips for our members looking to succeed in a similar way?
I am most proud of the journey I have made in my current role over the last few years - how I took it on with fear and trepidation, how much I have learnt along the way and how my confidence has grown.
What was the most challenging experience you've had in the workplace and what are your top tips for women to turn similar experiences into an opportunity?
The most challenging element is embracing constant change which can certainly be an opportunity if you can get comfortable with uncertainty or be a forward thinker and lead from the front, so you bring your team with you.
As a CFO yourself, what do you think we can do to encourage more women to choose a career in finance and reach the highest levels?
I don't think there is an issue in attracting women into the profession, it's more about retaining and developing women so that they can progress up the ranks. I am fortunate that in my company and in media there are a lot of visible female leaders who inspire and mentor female talent so they can advance to more senior roles.
What career advice would you give your younger self?
I wish I could have told myself to have more self-belief and that there's no need to be so hard on myself, especially if things don't go to plan…which they invariably don't!
How do you juggle your work/life balance and what do you like doing when you do have down time?
Flexible working is key so I can be available for my daughters as much as possible, and still keep the plates spinning on the work front. Also, tight diary management, yoga and pilates, as well as watching Friends with my daughters on Comedy Central…it's so lovely to see them enjoying it as much as I did first time round!
What are you reading (or watching) right now?
Recent TV favourites include Succession (as it's about a media mogul), & The Crown (I love escapist period drama).
---