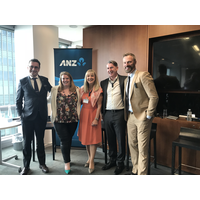 It was standing-room only for CWN's What About The Men? event hosted by ANZ Bank on 25th April. The distinguished panel featured ANZ's CEO for the UK and Europe Diana Brightmore-Armour, Citibank's CFO for EMEA Frank Mannion, Journalist and broadcaster Martin Daubney and paternity coach and paternity leave campaigner Tom Beardshaw. Harriet Minter, the renowned broadcaster and journalist, skilfully moderated, armed with the breadth of knowledge on the subject of diversity and the generous helping of her trademark sense of humour.
The conversation started with "Why we should worry about the men?", to which Martin gave his candid opinion on the lack of government policy to protect men's mental health. He followed on to talk about paternity rights, and Tom expressed strong views on the reasons for the failure of the shared parental leave to take off properly. The debate then focused on the overpowering problem of the absence of women at the top with Diana giving a frank overview of underlying corporate policies that lead to this. She talked about biased recruitment practices and other examples of the unconscious bias which still stubbornly remain in place. It was fascinating to hear Frank speaking about his rich experience as the top manager in a large bank, about the change of his personal attitude over the years and about the push that is required to make gender diversity at the top level a reality. He conceded that in many businesses men are still promoted over women.
It lead to Martin advocating the proverbial carrot over stick in men standing up for women's progression in business, whilst Tom brought in his perspective as a single dad to talk about men taking more proactive role at home and therefore freeing the women some extra time to focus on their career. Frank emphasised the role of the leader in encouraging the balanced approach to work and the audience were visibly won over by his candid and witty delivery. Diana added that there is often the tendency to try to fit women into the existing picture of leadership and this is unproductive. The lively, often humorous yet earnest debate lead to a myriad of question from both men and women in the audience, and ended on the high note with Martin suggesting that "men should become part of the solution, not part of the problem".
---