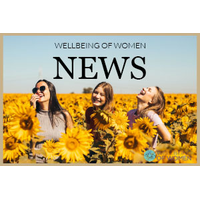 Wellbeing of Women on Emotional Health
by Adriana Tatcheva, Marketing Manager
In light of Mental Health Awareness Week during October, we would like to share important insights from our charity partners, Wellbeing of Women, who have spoken to Perinatal psychiatrist, Dr Roch Cantwell, about the importance of mental health before and after pregnancy.
Up to 1 in 5 women experience mental health problems during pregnancy or post-partum, with depression and anxiety being the most common.
What is Perinatal psychiatry?
Perinatal psychiatry is treating mental illness in women who are pregnant, or who have had babies in the past year.
For a number of women, this can be a riskier time for developing mental illness– and, for some women who've already had mental health problems, having a baby and being pregnant can sometimes be an extra challenge. That is why services dedicated to helping women, their infants and families exist.
Why is it important that we talk about maternal mental health?
Some women are afraid to come forward, they feel like they should cope on their own or that people are going to judge them as a mother if they ask for help.
Recognising that you need a bit of help is a really normal and healthy thing. It's important to de-stigmatise mental health and to say "actually, lots of people have this problem – it's okay for me to say I have it too".
Why is maternal mental health particularly important right now?
Becoming a new mother or father is one of the most exciting, but also potentially challenging, times of your lives. We really want to have family around but during the pandemic, we're that bit more distanced from each other.
Even if you can't have somebody physically in the room with you, stay in touch with people and don't allow yourself to get isolated.
Draw on support from family and professionals and ask for help.
Wellbeing of Women Project: Preparing women for induced labour
For a variety of reasons, healthcare professionals are offering induction of labour to a greater number of women and, at the moment, 30-40% of labours are induced.
Induction can, however, affect a woman's birth preferences, which can have a negative impact on the mother's mental health if she doesn't feel prepared.
This is why Wellbeing of Women Research Midwife, Sam Nightingale, is developing a video to help women prepare for induction of labour.
By improving women's understanding of induced labour and addressing their needs, this study aims to improve the experience for women and their families as well as their mental health afterwards. Find out more about Sam's project here
WoW events
Fertility: 'Conceivable' with author Jheni Osman and Dr Ed Coats - Wednesday 7 October – 1-2pm
Prepare for your fertility journey with this expert dive into the technical and emotional aspects of IVF. Journalist and presenter, Jheni Osman and obstetrician, gynaecologist and fertility specialist, Dr Ed Coats, will discuss IVF in detail and answer your questions during a live Q&A.
Full details and to sign up to the webinar here.
Quite. Claudia Winkleman in conversation with her mother Eve Pollard OBE -Wednesday 14 October – 1-2pm
Join the nation's favourite TV presenter and journalist Claudia Winkleman to celebrate the launch of her debut book 'Quite'. Claudia will talk to her mother, Wellbeing of Women Vice Chair, Eve Pollard OBE, about her thoughts on friendship, the power of art, the highs and lows of parenting and the secret of creating her trademark smoky eye.
Full details and to sign up to the webinar here.
Thank you to Laura Neale and Alice Sholl from the charity for their help in collating this article and to Adriana Tatcheva for the write up.
---