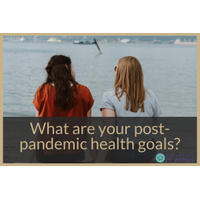 It's been a year since we first had to adjust to pandemic life. From spring 2020, we became accustomed to a world of homemade lunches and Zoom instead of inner-city face-to-face meetings, but also found ourselves losing access to the things that help us stay healthy both physically and mentally, from the gym to seeing our friends and family.
Indeed, the pandemic has disproportionately affected women's health. We have struggled to access basic health services such as face-to-face GP appointments, but also vital tests such as cervical cancer screening: Almost a third of women who missed a vital cervical cancer check in the last year skipped the screening due to the coronavirus pandemic.
So, as the world slowly reopens and we resume (to some degree) our normal lives, it's as important as ever to put our health first, from booking that gym class to paying attention to our bodies when they give us signs something could be wrong.
It may not immediately seem cause for alarm, but unusual vaginal bleeding – which could be bleeding outside your period, or after menopause – is one thing that is always worth investigating with your GP. Though it's unlikely, it can be a symptom of various gynaecological cancers, so it's important to check just in case.
At Wellbeing of Women, we believe putting in putting your health first but also, as a society, putting women's health first too. Despite women being 51% of the population, just 2.1% of publicly funded research is invested in women's reproductive health and childbirth.
This is why we continue to invest in research that will find new treatments for poorly understood women's health conditions, from gynaecological cancers to wellbeing issues such as incontinence and menopause.
For example, Wellbeing of Women researcher, Dr Sarah McClelland, is looking into how to prevent ovarian cancer from becoming resistant to chemotherapy. Ovarian cancer is currently the deadliest gynaecological cancer in the Western world; initially, women who have it find that treatment works – but it often comes back resistant to treatment. Dr McClelland's project could find ways to stop that happening and save thousands of women's lives.
We are also investing in research to help at-risk babies live happy, healthy lives. For example, Dr Ashley Boyle is investigating how bacteria causes brain damage in premature babies – which can lead them to have cerebral palsy and other health issues, or even tragically lose their lives – and what we need to know to better protect them from it.
If you believe it is time women's health got the attention it deserves then why not join a fundraising challenge for Wellbeing of Women! They have guaranteed places in the London Marathon and the Royal Parks Half, both taking place in October, or speak to a member of the team to choose your own challenge. Email Zamira to find out more.
If you're not ready to commit to a fundraising challenge but would like to support their work, you can donate online here.
All fundraising and donations support vital research into women's health, from conditions like endometriosis to preventing premature birth to supporting women going through menopause.
---