Charity Partner Events - Wellbeing of Women
We would love City Women Network members to support  our charity partner, Wellbeing of Women through attendance at their fundraising events or by getting involved in their Challenge events. 
Please find below details of what's coming up.
Wellbeing of Women Annual Christmas Fair, 6 December, 8-11pm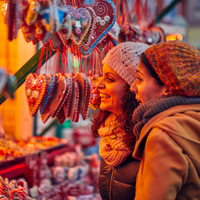 With Christmas now fast approaching we are excited to share details of Wellbeing of Women's annual City Christmas Fair back in person this year on 6th December.
It takes place in Drapers Hall from 11 am – 8 pm. Please see below for details and a link to buy tickets.  It is a brilliant festive event and a wonderful shopping experience.  There will be over 50 stalls selling unique and special gifts - a wonderful opportunity to get into the Christmas spirit and find the perfect gift for that special someone.  The event has previously has raised over £800,000 for Wellbeing of Women in over two decades. 
The brilliant Lido Ladies will also be there with a stall to sell their 2022 Postcards from the Lido calendars and represent CWN, so why not pop in and say hello?
To purchase your tickets, please click here.