Charity Partner Events - Wellbeing of Women
We would love City Women Network members to support  our charity partner, Wellbeing of Women through attendance at their fundraising events or by getting involved in their Challenge events. 
Please find below details of what's coming up.
Putting your (frozen) eggs in one basket? The myths and facts of social egg freezing - 10 November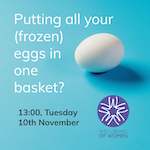 Social freezing' is becoming an increasingly 'hot' and, at times, contentious topic in the discussion around fertility. With a growing number of large corporations offering the procedure as part of their benefits package, is egg freezing a sensible way to safeguard a woman's fertility? Or is it pushing women to have children later in life and increase the probability of pregnancy complications? Why are more women than ever considering egg freezing as the right option in their fertility path?
More importantly, does it work? And how does it work? What are the costs and what should women be considering in terms of emotional and physical impact? Wellbeing of Women bring together the UK's leading fertility and egg freezing experts at the forefront of the debate to deliver the facts. Through a balanced and transparent discussion, we will be dissecting the how, the why and the when, and looking at the legal and ethical points to consider in the process.
When: Tuesday 10 November, 1.00 - 2.00pm
For full details of the Zoom webinar and to register, click here.
City Christmas Fair goes virtual - 9 to 16 November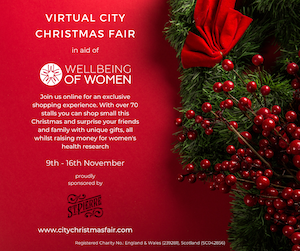 The Annual City Christmas Fair will be online for the first time in its history this year, taking place from 9th to 16th November 2020. The site will go live on Monday 9th November so join us, exciting new stallholders and firm favourites for a truly brilliant Christmas shopping experience.
The Fair, which would usually raise £50,000 in a single day for li​fe-changing research, will now take place on a curated shopping website featuring an array of gorgeous gifts, clothes and treats.
While Wellbeing of Women is incredibly disappointed that it won't be welcoming guests to Drapers' Hall this year, we hope it will be a great opportunity for supporters all over the country to browse from the comfort of their own homes.
We are also really excited to announce we will be putting together a schedule of fantastic online events so that you can feel part of the fair even though we won't be together in London.
As the Fair will finish well before Christmas​, on 16th November, you can also be sure your purchases will arrive in good time before Christmas Day. 
By ​shopping at the Virtual City Christmas Fair, you will be raising money to invest in life-saving women's health research that will change the lives of women, girls, babies and their families.