Charity Partner Events - Wellbeing of Women
We would love City Women Network members to support  our charity partner, Wellbeing of Women through attendance at their fundraising events or by getting involved in their Challenge events. 
Please find below details of what's coming up.
Let's talk Periods - 22nd September 2021 - 1pm
Heavy menstrual bleeding can be caused by a number of common conditions, including adenomyosis, endometriosis and fibroids, which affect millions of women and girls in the UK. But do we all know enough to be able to spot symptoms? When should you speak to a healthcare professional?
The expert panel will examine what heavy menstrual bleeding is, how common it is, and the impact it can have on our lives.
This webinar, led by Wellbeing of Women, on 'Let's Talk Periods' is the first in a series about the menstrual cycle and aims to shine a light on our periods. Join their mailing list to be notified of other upcoming webinars.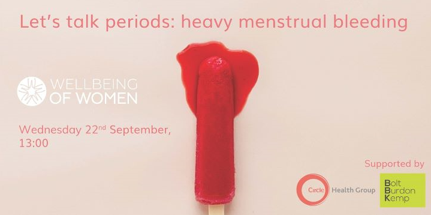 The panel includes:
- Dr Sujata Gupta, Consultant Gynaecologist at Circle Health Group
- Dr Varsha Jain, Wellbeing of Women Clinical Research Fellow at the MRC Centre for Reproductive Health, the University of Edinburgh
- Prof Dame Lesley Regan, Chair of Wellbeing of Women.  Read about her research with NASA on Periods in Space here.

Please click here to register for the event.  If you have a question for one of the speakers? Email events@wellbeingofwomen.org.uk before the event and they'll do their best to answer your questions during the session.