Charity Partner Events - Wellbeing of Women
We would love City Women Network members to support  our charity partner, Wellbeing of Women through attendance at their fundraising events or by getting involved in their Challenge events. 
Please find below details of what's coming up.
Pieces of a Women - 28th January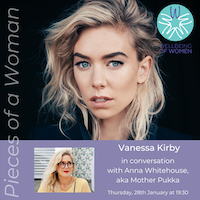 We are delighted to begin the new year by announcing a very special evening event with BAFTA award winning actress Vanessa Kirby and Anna Whitehouse, aka MotherPukka. Vanessa will talk to Anna about her incredible new film, Pieces of a Woman, which was released earlier this month on Netflix and is a deeply personal, searing, and ultimately transcendent story of a woman learning to live alongside her loss. In Pieces of a Woman Vanessa plays the role of Martha, a grieving mother who loses her first baby shortly after giving birth. 

Bestselling author, campaigner and presenter, Anna Whitehouse, who has talked openly about her own experience of baby loss in the 2020 Channel 5 documentary 'Miscarriage: Our Story', will talk to Vanessa about how it felt to play the role of Martha, her career to date, favourite roles – including her award-winning performance as Princess Margaret in hit series The Crown – and plans for the future.

Join these two brilliant women, each an inspiration and force to be reckoned with in their own rights, for what will no doubt be an exciting and thoughtful conversation.
When: Thursday 28th January at 7.30pm
Registration: Book your ticket here.