NB: This event is virtual
In 2022, almost two years since the killing of George Floyd and Black Lives Matter protests, and a year on from the killing of Sarah Everard, every leader understands the importance of equity, diversity and inclusion.

Our media headlines are full of stories about trans rights, cancel-culture, "woke ideology" as problematic, and systemic issues of racism, misogyny and homophobia within the police.

But, regardless of how much we know there needs to be change and how much we want to drive positive change in our communities, how many of us are really confident in knowing how to prioritise this topic and be an inclusive leader in the workplace?

Leaders are expected to be doing more and there can be a lot of pressure to get it right. Join Nathan Nalla, Director of Be The Riot as we explore Be The Riot's 7 Characteristics of an Inclusive Leader with the participants sharing examples in pairs. The aim is to draw on your own experiences and the challenges you've faced to then explore solutions together. It's very interactive from start to finish. We'll wrap up with a Q&A.
We will discuss:
• How do you authentically prioritise equity, diversity and inclusion?
• How do you ensure awareness leads to action and that action leads to tangible change?
• How do you ensure diversity doesn't just mean "more underrepresented groups in the workplace"?
About Nathan Nalla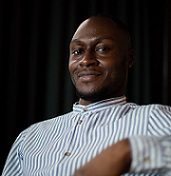 Nathan Nalla is the founder and Director of Be The Riot, supporting organisations to create an inclusive working culture through facilitated learning workshops and consultancy services. Nathan supports organisations to develop equity diversity & inclusion strategies from small start-ups to large multinational businesses and charities. Nathan has more than 10 year's experience designing and facilitating learning content as well as public speaking in a variety of contexts.
Nathan's Specialist areas include inclusive leadership, inclusive behaviours, inclusive recruitment and anti-racism. As well as this, a focus on workplace programme development for exploring and monitoring inclusive culture, reviewing ways of working, understanding employee and consumer experiences, diversity data collection and EDI committees and resource groups.
As a man who is racialised as Black and identifies as gay, Nathan uses his personal experiences to shape his work. Seeking to centre the voices of those from underrepresented or underserved groups and to foster approaches to EDI that lead to genuine long-lasting change.
Pricing
Member: tickets are free, however, have the option of making a donation to Wellbeing of Women (WOW) by choosing one of the Member 'donation' tickets.
Non-member: There is a nominal charge (a choice between a £10, £15 and £20 ticket price), with all money raised going to WOW.
@CityWomenLondon | #CWN | #CWNonline
#remoteworking | #positivecommunication