CWN welcome you to Club Soda! Join us in January for a truly immersive and interactive alcohol-free cocktail class experience, where you'll discover the artistry of mixology without a drop of alcohol. In the heart of Covent Garden, this is an unforgettable journey into the world of Alcohol-Free Cocktails.
Whether you're moderating your drinking, sober, or simply curious about crafting your favourite cocktails without alcohol, this class is designed to satisfy your thirst for creativity and flavour. Our experienced mixologists will guide you through a hands-on workshop, unlocking the secrets behind crafting enticing alcohol-free concoctions.
During this engaging session, you'll explore a variety of premium alcohol-free spirits and ingredients, sustainable garnishes and syrups to elevate your Alcohol-Free Cocktail creations. From classic favourites with a twist to innovative, boundary-pushing recipes, you'll learn the techniques and principles behind mixology that will leave your taste buds tingling. You'll delve into the art of layering flavours, experimenting with different textures, and garnishing with precision, transforming each Alcohol-Free Cocktail into a visually stunning masterpiece.
Every guest will use the best alcohol-free spirits, fresh ingredients and specialist equipment to make their own cocktails. You will leave the class with newfound knowledge, recipes to recreate at home, and the confidence to craft refreshing and tantalizing Alcohol-Free Cocktails for any occasion.
The night includes:
A welcome glass of delicious alcohol free fizz upon entry
Time to mingle and drink your cocktail in-between each making session
Learn top tips for mindful drinking at home and when out socialising
A guided exploration through three cocktails, including a perfect serve, one stirred, and one shaken.
Why not take some photos of your creations for instagram in the perfect picture mini-light booth?
We can't wait to see you there and welcome in the new year with some fun!
Please not that spaces for this event are limited so please register as soon as possible to secure your place. Once places are filled, we will be operating a waiting list. Please email Robyn directly at robyn@citywomen.org to be placed on the waiting list.
Cancellation Policy
For tickets cancelled no later than 7 days in advance of the event we are able to provide a full refund of the ticket fee. For any tickets cancelled later than 7 days in advance of the event, a refund can only be given should the ticket be re-sold to the waiting list.
Photographs
We regularly publish photographs [and videos] from events and other activities on our website, in our newsletters, in print, and on social media. Participants at our events automatically give us permission to use photographs taken at our events. If you do not wish to be photographed, or you wish to have a published image removed please let us know and we will remove the image as far as possible.
We expect our members to collaborate openly and support each other, without commercial interest or seeking business benefit.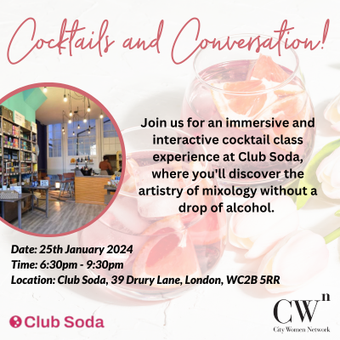 Club Soda, 39 Drury Lane, London, WC2B 5RR