Members and CWN invited guests (female and male!)

Join us for our annual Members' Drinks event, this year in Autumn, in The Mezzanine at The Albie Restaurant at The Hoxton in Blackfriars.
This is another fabulous opportunity for our Members to come together in person once more and raise a glass to all the wonderful things CWN has achieved this year.
We welcome individual Members and Corporate Members to bring ONE guest. You can register a guest in the same way as you register yourself below. Already registered yourself? Don't worry, you can still register a guest at a later date.
If you have any questions, please direct them to Robyn on the Events Strategy Committee.
We look forward to seeing you!
Ticket Name
Sale Ends
Price
Quantity

Corporate Member

22 Nov 2022

Free

Sale Ended

Member donation - £10

17 Nov 2022

£10.00

Sale Ended

Member donation - £15

17 Nov 2022

£15.00

Sale Ended

Member donation - £20

17 Nov 2022

£20.00

Sale Ended

Corporate Member donation - £10

18 Nov 2022

£10.00

Sale Ended

Corporate Member donation - £15

18 Nov 2022

£15.00

Sale Ended

Corporate Member donation - £20

18 Nov 2022

£20.00

Sale Ended

Click here to enter your promotional code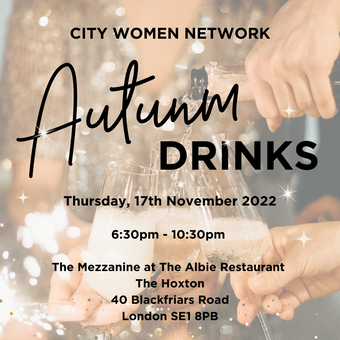 The Mezzanine at The Albie Restaurant at The Hoxton, 40 Blackfriars Road, London SE1 8PB