You'll likely spend a whopping 6 years of your life on email. And yet you've never been taught how to write a good one. Crazy, isn't it? And now we're working remotely, we're all relying on email more than ever. Bad emails can cost you time, money and your sanity.
In this webinar, Kim Arnold shares key takeaways from her new book: Email Attraction - Get What You Want Every Time You Hit Send. In its recent roundup of best business books, the Financial Times wrote of it, 'Save time and get results [...] Arnold takes the lowly email and reworks it, making this form of communication fit for 2021'.
Kim will break down the email writing process to show you how to transform dry, dull emails into productivity rocket fuel.
Whether you want to...
get a speedy response from clients or colleagues

move projects forward at lightning speed

book in meetings quickly - avoid the agonising back and forth

motivate team members from afar

free up time to spend on the important stuff
...you'll learn how to write emails that get the result you need. Discover:
the surprising reasons why emails fall flat with their recipients

the three quickest ways to get your emails opened and answered in record time

how to engage people with warmth and charm, even if you've never met
So ditch the fruitless chasing and the frustration of unanswered emails. Start writing emails that make people jump into action.
About Kim Arnold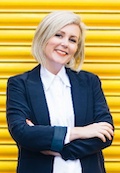 Business communication consultant and speaker, Kim Arnold, shows people how to get noticed, make their messages stick and be remembered (in all the right ways). She's allergic to bad emails and stuffy phrases like 'Herewith please find attached' make her come out in hives.
Kim helps the world's leading organisations - including FTSE 250 businesses, international banks, global law firms, tech scale-ups and more - transform their communication, marketing and branding, connect with their audience and get the results they need.
Kim teaches marketing and branding at The University of Cambridge's Institute for Continuing Education.
To find about more about Kim's work, visit www.kimarnold.co.uk.
Pricing
Member: tickets are free, however, have the option of making a donation to Wellbeing of Women (WOW) by choosing one of the Member 'donation' tickets.
Non-member: There is a nominal charge (a choice between a £10, £15 and £20 ticket price), with all money raised going to WOW.
@CityWomenLondon | #CWN | #CWNonline | @KimArnold5