Join us for our next Member Meetup when Melissa Longley, Chartered Fellow of the CISI, who has spent nearly 30 years in the world of investments, will be interviewed by fellow Events Committee Member Charlotte Wiseman.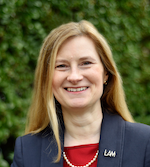 Melissa, who is on the pathway to become the first female Master of the Guild of Investment Managers in the summer of 2022, will be sharing some of the highlights of her career as well as what financial wellbeing means to her. She will also share what it is like to build and run a directly-authorised investment firm, and will speak about the insights she is learning from her recent forays into Angel Investing and her desire to support newly-established women-founded businesses.
The discussion will touch upon a number of high-level financial and investment topics, and we will be using this event to determine areas of interest among our membership for any future in-depth Financial Wellbeing event. We will be requesting our members' assistance to shape any such event via a short survey after the Member Meetup.
There will also be ample time for networking as we go into breakout rooms after the discussion. We encourage you to bring your glass of wine or cup of tea, turn your cameras on and connect with other members.
#CWN | #CWNonline | @CityWomenLondon