It's tempting to lie low and bury yourself in another box set on these cold, January evenings. Rather than do that, why not join us to meet some of your fellow members at the first of our Member Meetup events?
To get us in the right mood for a chat, we are going to shine the spotlight on one of our CWN board members who has got herself in hot (well, warmish!) water recently.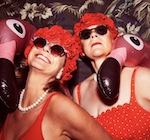 Nicola Foster of Lido Ladies fame (Insta @lidoladieslondon) is also on the CWN board and looks after member recruitment. Nicola has kindly agreed to join us with her fellow Lido Lady, Jessica Walker, to tell us what inspired LidoLadiesLondon and what it is about swimming outside that keeps them so buoyant (groan!).
There will also be opportunity to meet and connect with other CWN members. We encourage you to bring your glass of wine or cup of tea, turn your cameras on and have a laugh with other members.
Pricing
Member: tickets are free, however, have the option of making a donation to Wellbeing of Women (WOW) by choosing the Member donation ticket.
We are keen to feature other members so please email us if you want to take the plunge (OK enough!) and feature in one of our Member Meetups!
#CWN | #CWNonline | @CityWomenLondon
#wellbeing | #mentalhealth | #feelgoodfactor