After the phenomenal success of last year's RADA workshop, CWN is once more delighted to be collaborating with RADA Business for another highly interactive 90 minute evening Masterclass.
How can we be more present and 'in the moment', and respond to what's in front of us with confidence? How can we confidently speak "Off The Cuff"? Improvisation is the art of listening and reacting, and creating something from nothing, on the spot. Through a series of fun, fast paced, high-energy games and exercises, delegates will be shown how to take risks, let go of fear and get into a creative mode when communicating with colleagues. This light-hearted, energising session will help you to:
Step out of your comfort zone and take risks when feeling uncertain.

Generate new, creative ideas quickly, on the spot.

Speak off the cuff, rather than always over preparing and relying on a script.

Build individual confidence when communicating your ideas.

Create new ways of working with colleagues.
Presenting this session will be Imogen Butler-Cole. Imogen trained at RADA and continues to work as a director and actor in theatres across the world. She devotes herself to her work with energy and enthusiasm. A great facility with language and love of self-expression means she is inspiring and engaging as a facilitator. She relishes the rich rewards of engendering positive change.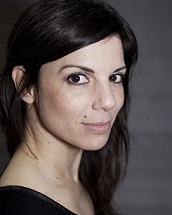 Imogen's specialisms include training women in confidence and management skills, and consulting on creativity for innovation and change. She regularly works as a trainer for RADA Business, the Old Vic and Aspire Leadership, and has designed and implemented training for: Chanel, Sony, Google, Dove, Sweaty Betty, Odeon, the BBC, EasyJet, Warner Music, Lycatel, Santander, The Royal Bank of Canada, PwC, PA Consulting, CAPCO, Moorhouse, Edelman, The Royal Academy of Engineering and Saïd Business School.
Private one-to-one clients include executives from The Sunday Times, the BBC, Easyjet, Five Ten Group, Thirty Nine Essex Street, British Foreign Policy Group and The Forgiveness Project as well as three TEDx Speakers.

Following the session, members will have time to network over drinks and canapes.
Location:
RADA Studios, 16 Chenies Street, London, WC1E 7EX
Timings:
6.00pm - 6.30pm: Arrival and registration with drinks & canapes
6.30 - 8.00pm: Embodying Leadership Masterclass
8.00pm - 9.00pm: Networking with drinks and canapes
Cancellation Policy
For tickets cancelled no later than 7 days in advance of the event we are able to provide a full refund of the ticket fee. For any tickets cancelled later than 7 days in advance of the event, a refund can only be given should the ticket be re-sold to the waiting list.
Photographs
We regularly publish photographs [and videos] from events and other activities on our website, in our newsletters, in print, and on social media. Participants at our events automatically give us permission to use photographs taken at our events. If you do not wish to be photographed, or you wish to have a published image removed please let us know and we will remove the image as far as possible.
We expect our members to collaborate openly and support each other, without commercial interest or seeking business benefit.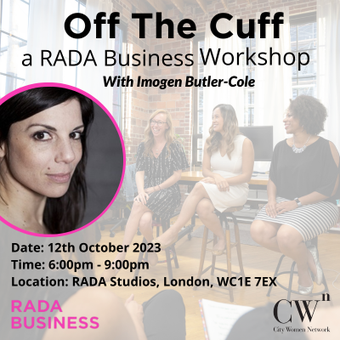 RADA Studios, 16 Chenies St, London, WC1E 7EY