After multiple highly valued, interactive and fun workshops over the last few years, CWN is delighted to be collaborating with RADA Business once again for this 90 minute evening Masterclass.

Being an effective and extraordinary leader demands a range of skills far beyond technical expertise. It requires confidence, personal presence, outstanding communication skills and the ability to flex your leadership styles appropriately.

Presenting this session will be Sheelagh McNamara, an internationally recognised voice, speech and presentation skills trainer. For further details on the Sheelagh please click here.
In this practical masterclass, participants will have the opportunity to explore what type of leader they are and the type of leader they could become. By examining the three tools of communication – the body, breath and voice - participants will learn techniques to come across with greater authority, impact and influence. They will explore how it feels to embody different leadership characteristics, and will build skills to flex between these characteristics as required by a given situation, audience or challenge.

Following the session, members will have time to network over drinks and canapes.
Location:
RADA Studios, 16 Chenies Street, London, WC1E 7EX
Timings:
6.00pm - 6.30pm: Arrival and registration with drinks & canapes
6.30 - 8.00pm: Embodying Leadership Masterclass
8.00pm - 9.00pm: Networking with drinks and canapes

Photographs
We regularly publish photographs [and videos] from events and other activities on our website, in our newsletters, in print, and on social media. Participants at our events automatically give us permission to use photographs taken at our events. If you do not wish to be photographed, or you wish to have a published image removed please let us know and we will remove the image as far as possible.
We expect our members to collaborate openly and support each other, without commercial interest or seeking business benefit.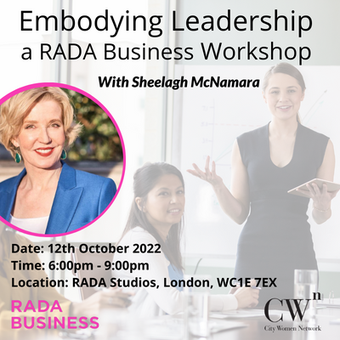 RADA Studios, 16 Chenies St, London, WC1E 7EY