Many believe they are great at building relationships but when it comes time to make an "ask", whatever that ask may be, they often fall short. Not being able to ask for that opportunity or introduction, or ask to represent a client, go on a pitch or be considered for a promotion, leadership role or increased compensation, can significantly impede your success.
At this event, join Debbie Epstein Henry as she takes you through how to master the art of the ask, whether in-person, hybrid or virtual. The trick? Listen and get to know a person's needs, interests and challenges. Rather than frame your ask as a favour, you will learn how you can be a resource. You will leave armed with action steps and inspiration to provide value while learning to ask for what will propel yours, as well as your colleagues' and clients' , careers forward.
About Debbie Epstein Henry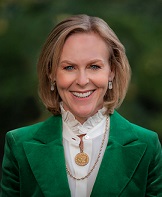 Debbie Epstein Henry is a lawyer turned entrepreneur, author, and public speaker with an expertise in careers, women, workplace dynamics, and law. She's the founder of DEH Consulting, Speaking, Writing and speaks at company and firm retreats across the US and abroad including The Hague, the French Senate, London and Vienna. Debbie wrote two best-selling books and she's been featured by hundreds of news outlets including The New York Times, NBC Nightly News and The Wall Street Journal. She runs the DEH Speaker Series, garnering hundreds to 1,000+ participants per quarter. Debbie also hosts the podcast, Inspiration Loves Company, exploring how to do and be better at life, work, and everything in between. She is the immediate past President of The Forum of Executive Women. Debbie and her husband have three grown sons and live in the New York area.
Click here to view Debbie's website and here for her full bio.
Timings:
6:00pm - 6:30pm - Registration, drinks and networking
6:30pm – 8.00pm - Interactive session led by Debbie
8:00pm - 9:00pm - Networking with drinks and canapes
Location:
Sidley Austin LLP, 70 St Mary Axe, London EC3A 8BE
Pricing
Member: tickets are free, however, have the option of making a donation to Wellbeing of Women (WOW) by choosing one of the Member 'donation' tickets.
Non-member: tickets cost £15. If you wish to make a donation to WOW, please choose the £25, £35 or £40 Non-member ticket option.
Photographs
We regularly publish photographs [and videos] from events and other activities on our website, in our newsletters, in print, and on social media. Participants at our events automatically give us permission to use photographs taken at our events. If you do not wish to be photographed, or you wish to have a published image removed please let us know and we will remove the image as far as possible.
@CityWomenLondon | #CWN | #CWNonline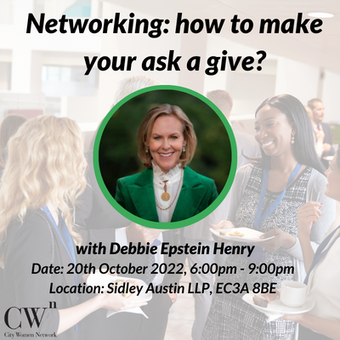 Sidley Austin LLP, 70 St Mary Axe, London EC3A 8BE, UK