In line with "Time to Talk Day", CWN are delighted to be hosting a collaborative "Dinner and Discussion" event with The Conduit and Wellbeing of Women. The event will take place at The Conduit Club on 9th February, 2023. This event is open to Members only and tickets cost £45. This includes a three course meal and two glasses of wine. After the meal, there will be some networking where you have the option to buy more refreshments if you so wish.
The topic of conversation will be "Health: We all have it, why don't we talk about it?" Join us along with members of The Conduit for a casual social supper club to explore the stigma of talking about health and the opportunities that might arise if we tackle this taboo.
The event will be hosted by Charlotte Wiseman with confirmed speakers, Yvette Forrester, President of City Women Network and Janet Lyndsay, Wellbeing of Women.
About Charlotte Wiseman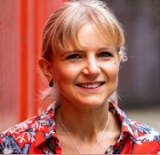 Charlotte is a London based leadership and wellbeing consultant, known for her work in the field of CEO wellbeing and mental fitness.
Her latest research has focused on CEO burnout, exploring key factors that contribute to or mitigate risks of leaders experiencing this stress-related syndrome. Her latest research has focused on CEO burnout, exploring key factors that contribute to its development and the role that stigma of talking about mental health plays in this."
Working with clients such as Accenture, Soho House and Audible, Charlotte now combines her scientific foundation and on-going research, with personal experience to embed positive leadership and wellbeing into the culture of organisations. She is an advisor for The Leaders Council, a member of the British Psychological Society and a workplace advisory board member for MQ Mental Health research charity. She has been featured in the Journal of Public Mental Health and continues to speak worldwide on the topic of organisational wellbeing.
About Yvette Forrester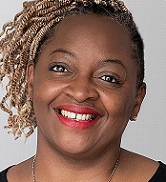 Yvette is a Governance and Inclusion Consultant for Howlett Brown. Yvette joined Howlett Brown from the Bank of New York Mellon where she worked in the EMEA Regional Change group supporting the EMEA Regulatory Governance and Reporting Programmes. Prior to being a Project Manager she was the Company Secretary where she performed comprehensive company secretarial services to a large portfolio of entities in the UK and EMEA region with responsibilities for compliance with statutory and corporate governance requirements. Yvette has over 25 years of Senior Administration experience in large firms, including Accenture, United Broadcasting Entertainment and previously worked as a Senior Analyst at Goldman Sachs, performing Company Secretarial duties. She remains an Associate of the Institute of Chartered Secretaries & Administrators (UK) since 2016.
Yvette graduated from Fordham University in New York majoring in Sociology and French. She completed her MSc in Corporate Governance (2015) gaining a distinction in her dissertation on women making it to the C-Suite. Alongside her main duties, Yvette was involved in many social awareness activities at BNY Mellon having Co-Chaired EMEA Community Partnership; Chair of Business Resource Group, IMPACT Community Affairs sub-committee; and she was appointed as Co-Chair of IMPACT in EMEA where she looked to increase diverse talent pipeline externally and internally.Yvette is a mentor with Inspiring the Future and is also a Non-Executive Director and Chair sitting on the Board of DigiBridge Community Interest Company; a social enterprise providing IT support, recycling, re-use services and activities locally in London and educational support for young people in Africa.
Yvette is President of the City Women's Network and is a regular panellist or facilitator on topics ranging from Diversity, Equity, Inclusion, Courageous Conversations and Hybrid working.
About Janet Lyndsay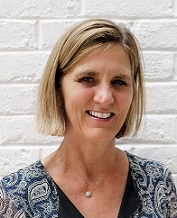 Janet Lindsay is Chief Executive of Wellbeing of Women, a charity improving the health and wellbeing of women, girls and babies.
Best known for investing in early-stage research across a woman's life course, Wellbeing of Women recently underwent a strategic review and the charity is now embarking on an exciting series of campaigns, education and awareness raising to tackle taboos and improve outcomes in women's health. Janet started her career working for a global advertising agency before running her own communications agency.
Prior to joining Wellbeing of Women, Janet worked for Great Ormond Street Hospital Children's Charity and Starlight Children's Foundation in fundraising and communications.
Please not that spaces for this event are limited so please register as soon as possible to secure your place. Once places are filled, we will be operating a waiting list. Please email Robyn directly at robyn@citywomen.org to be placed on the waiting list.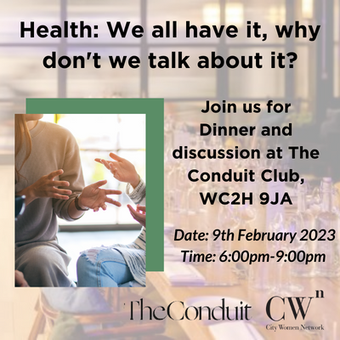 The Conduit, 6 Langley St, London WC2H 9JA