CWN welcomes you to a lively and thought-provoking panel discussion on the impact of technological advances on the subject of inclusion.
Rapid changes in technology including the advent of Artificial Intelligence (AI) is expected to have a profound effect on all of our lives. Intelligent technology which simulates human behaviour also has the potential to mitigate unconscious bias and create greater inclusion not just in our workplaces but in all aspects of our lives. Inclusion happens when we embrace all individuals irrespective of their differences. This event will discuss the extent to which technology is an enabler or inhibitor of inclusion and the factors which will positively support or hinder this.
A special thanks to Nomura, one of our corporate partners, and also to the National Black Women's Network (NBWN), for collaboration with CWN on this event - all working together to debate such an important and topical subject.
NBWN champions the advancement of women across all professional disciplines by recognising excellence, promoting leadership and effectively positioning its members at the forefront of the rapidly changing corporate and business world.
Following the panel discussion there will be a Q & A and then an opportunity to network with other members and guests, over a light lunch.
Our speakers include:
Moderator: Sasha Scott
Panellists: Karima-Catherine (KC) Goundiam, Christine Hemphill, Mark Martin and Wincie Wong.
For more information on our speakers, please click here.
Timings:
12.00pm - Arrival and registration
12.15pm - Introductions
12:30pm - Panel discussion and Q & A
1.30pm - Lunch and networking
2.00pm - Close
Venue:
Nomura
1 Angel Lane
London EC4R 3AB
Nearest Tube/Train stations:
Cannon Street and Monument
Pricing:
Individual member: Free of charge
Corporate member: Free of charge
#CWN | #futureofwork | #gigeconomy | #disruption | #impact
#leadingthroughuncertainty | #resilience #confidence| #realiseambition
#valuingdifference | #inclusionjourney |#inspire | #IWD
#IWD2020 | @CityWomenLondon | #CWN | #goodbusiness
Photographs
We regularly publish photographs [and videos] from events and other activities on our website, in our newsletters, in print, and on social media. Participants at our events automatically give us permission to use photographs taken at our events. If you do not wish to be photographed, or you wish to have a published image removed please let us know and we will remove the image as far as possible.
We expect our members to collaborate openly and support each other, without commercial interest or seeking business benefit.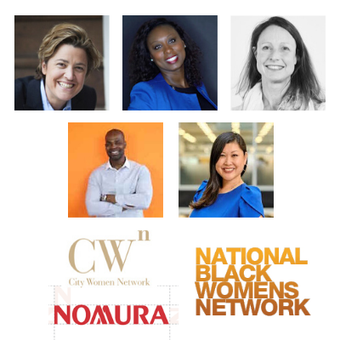 Nomura, 1 Angel Ln, London EC4R 3AB, UK