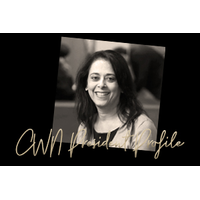 CWN Board and Member Profile: President, City Women Network
Following the news that Uma Cresswell has officially been appointed President of City Women Network, we took the opportunity to catch up with her so we could share with you Uma's personal journey, career path and her vision for the foreseeable future (in a constantly changing world). So, we set up a zoom call and went from there.
Congratulations on becoming President of CWN…so, where did it all start?
For me, it all began back in 1972 when my parents had to leave Uganda and we arrived in the UK. I owe everything to the sacrifices they made and I'm grateful every day for the opportunities I've had.
Your 'day' job outside CWN is in HR – what attracted you to that career?
I started my career working on local radio (more on that later). As a broadcast journalist, I interviewed some fascinating and high-profile people. My highlight was interviewing Imran Khan and Kapil Dev (at the time captains of their respective national cricket teams, Pakistan and India). I was captivated by the richness of the people I met, which led to pursuing a career in HR after moving to London. Working in IT recruitment and meeting a wide range of people, reinforced that I was valued for my contribution rather than being judged for how I looked. I built on my recruitment experience to move into various HR roles in different industries including retail banking, telecoms, investment banking and consulting.
Which achievement are you most proud of in your professional life?
I'm proud of several achievements but the ones that spring to mind are from when I worked at ANZ. Diversity and Inclusion was a key priority in their culture which meant that my actions could really make a difference. Also, markets outside of Europe such as Asia and India were major contributors to their financial success, so I worked with a broad range of talented people. I even incorporated a revenue generating aspect to my HR role; I worked with the Institutional business to set up a reception for key clients and prospects of Indian Banks to celebrate Diwali. The feedback was incredibly positive with attendees commenting that it showed ANZ understood the Indian culture and reinforced their position as a bank that their community wanted to do business with.
What led you to setting up your own business?
In the latter part of my career at ANZ, I was in a senior global HR role achieving many goals I had set for myself. I was able to influence senior leaders and key stakeholders and saw it part of my raison-d'être to leverage my position by advocating talent that would benefit from a helping hand especially working mums, women from an ethnic minority and many other aspirational career women.
I was also part of a high potential mentoring programme (which a previous CWN president Brenda Trenowden was involved with – more on that later). This ignited my desire to become a mentor and coach and to focus on the aspects of HR that are 'value add' and that I really enjoyed and excelled at such as, influencing senior leaders and creating inclusive cultures supported with the appropriate conduct and behavioural frameworks. Setting up Paradigm HR Limited was the culmination of that ambition.
What is your top tip for staying positive when women experience a challenging work environment?
I have experienced first-hand some very tough times, cut-throat cultures and appalling behaviours which sometimes dented my confidence and self-belief. At one point I worked in a culture where you couldn't be your true self or talk about your personal life. This was a particularly difficult time for me as my father was terminally ill and subsequently passed away which left me very disillusioned in my role and not sure what to do next.
Having said that, I have always got through these times by relying on my incredible network of friends and colleagues:
talking to people helps you realise that you don't have to figure it out all yourself and you feel less isolated.

having a variety of people across diverse cultures and at different levels (and not just those in senior roles) gives you a broader perspective. If you have a varied network, someone is bound to have gone through something similar - often just having validation about what is happening can make you feel more positive.

asking for help from both your professional and personal network; the former will remind you of your achievements and capabilities and the latter will support you and be there for you. Also, being proactive and talking to a professional can really make a difference and help you with your mental wellbeing.
How did you hear about CWN?
As I mentioned earlier, I worked with Brenda Trenowden when I was in a Global Head of HR role at ANZ. At the time, Brenda was the President of CWN, and I worked with her to set up ANZ's corporate membership as we were keen to partner with a network that was cross sector and cross industry.
After leaving ANZ, I continued my individual membership and met the CWN President at that time, Sandy Lucas. Sandy was instrumental in encouraging me to join the Board and I am very grateful to her for believing in me
It was an exciting time as Sandy had great ambitions for CWN, in particular, succession planning of the network and building a pipeline of more diverse role models on the Board. I led various projects including the selection of Haven House (our previous charity partner) before stepping into the role of Vice President. I saw this opportunity as being the right time, having the right platform, and with the right support from my fellow Board Members to bring that inclusive ambition to life that Sandy had initiated and wanted to fulfil.
Now that I am President, I want to ensure that we create the right conditions, behaviours and environment for all our membership. A place where our members feel they belong and a network that is led by a diverse and inclusive Board.
Inclusion and belonging are extremely important to you, what drives that passion?
Growing up as a child in the Midlands during the 1970s wasn't easy and I didn't feel that I fitted in as I was split between two cultures (and bullied because of the colour of my skin). However, that all changed when I left school and worked at BBC Radio Leicester which was the first and only Asian community radio station in the UK at that time. Not only was I working with people that looked like me, (so I felt like I 'belonged'), but they trusted me to deliver a great job. My confidence took a massive leap as a broadcast journalist.
Having grown up feeling like an outsider and then experiencing that I could truly belong means I have seen first-hand the positive difference creating inclusive environments can have on an individual's wellbeing and an organisation's success.
What do you put your success down to?
Without a doubt my work ethic has driven me to where I am today. Seeing how hard my parents worked really instilled the importance of hard graft. We grew up with my grandparents, aunts, uncles and cousins all living in the same house with heating in only one room (and an outside loo!) which made me determined to achieve as much as possible. It was also drummed into me that as an immigrant I would have to work tirelessly and continuously to prove myself.
Also being open to opportunities, seeing where they will take me and not listening to that doubting voice. If you're hesitant about a new role or project, ask yourself what's the worst that can happen? Remember you can always ask for help.
Which leads me to mentors and sponsors. They have been critical throughout my career and I am grateful to the support from the many senior men and women who have believed in me.
What's your favourite food?
In true culturally integrated style, I have two firm favourites: egg and chips and a wholesome vegetarian biryani (like my grandmother used to make).
What's your hidden talent?
I can sing!
What's your favourite holiday destination?
It has to be Rishikesh in India – a beautiful, peaceful and spiritual place on the banks of the river Ganges and where we scattered both of my parent's ashes.
What's your guilty pleasure?
A huge batch of salted, buttery popcorn – not for sharing!
---