Since the outbreak of the COVID-19 pandemic, emerging data and reports from around the world have shown that all types of violence against women and girls, particularly domestic violence, has intensified. The UN have called this rise in domestic violence the 'shadow pandemic'. All social backgrounds and ages have been effected and yet it remains a challenge to spot the signs, to encourage survivors to get the help they need, and to look out for the danger signs when mental health is jeopardised and can exacerbate depressive episodes.
CWN invites you to participate in our first event in the Courageous Conversation series. Join a panel discussion, moderated by CWN, to help confront the urgent and growing crisis of domestic abuse. It will challenge everything you thought you knew about the issues which haunt both men and women all across the world. Gain insight and tools to inform your next step if someone confides in you or you spot the signs of abuse or violence.
These issues are at the heart of a heartbreaking new memoir from Author and human rights campaigner Saurav Dutt and Mrs Daksha Dalal. The Dalal family was devastated when Meera Dalal, 25, took her own life in the United Kingdom after suffering from years of protracted abuse at the hands of an ex-partner. Once a confident, ambitious young lady, Meera was drawn into a violent cycle of abuse, psychological intimidation, gaslighting, extortion, blackmail, and serious mental wellness challenges.
The Dalal family has only now found the strength to take tragedy and convert it to hope. Along with Saurav and renowned international human rights campaigner Mandy Sanghera, they now wish to educate communities around the world to spot the danger signs, signpost women and girls to find the assistance they need, and to provide hope, solace, and some degree of comfort to those parents and siblings around the world to those who have lost a loved one under such circumstances.
Our Speakers

Saurav Dutt
Saurav Dutt is a TIME magazine featured Author, Political Analyst, and human rights campaigner. His debut novel 'The Butterfly Room' collated over 200 interviews with domestic abuse survivors and he co-wrote the Meera Dalal memoir with her mother Daksha Dalal. His work and commentary has been featured on CNN, Newsweek, BBC, The Guardian, The Independent, GQ Magazine, and more. He has spoken about domestic abuse at the Houses of Parliament, WEF, and shared platforms with international human rights activists such as Baroness Shami Chakraborti. He works closely with charities assisting survivors of abuse and devotes his writing career to discussing socio and geopolitical topics around the world in the human rights realm.

Mandy Sanghera
Mandy is an award winning philanthropists, consultant and global campaigner often referred to an global catalyst.
As well as being an international human rights activist & motivational TEDx speaker from UK, Mandy has travelled all over the world empowering & motivating others With over three decades of experience, Mandy is an expert in various development related fields. She has been driving innovation, building strategic partnerships, promoting advocacy and programming in the areas of human rights, gender equality, accountability and social justice globally
Mandy has helped hundreds of individuals and now reaches thousands through social media and her generous amount of worldwide TV appearances and public speaking engagements. Last November she spoke at the US House of Representatives for the 3rd year in a row. This year she was at the World Economic Forum and spoke at a couple of side events. Mandy has supported several Hackathon's regarding AI for social good.

Nillo Morjaria
Nillo is Meera Dalal's Aunt and was a major part of the research and interviews from which 'Fall in Light: A Mother's Story' was compiled. Her experience of what happened to Meera has empowered her to understand more about the different faces of domestic abuse, mental health awareness, and suicide prevention. She is representing the Dalal family at this event.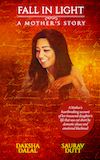 Fall in Light: A Mother's Story was released on International Women's Day. The heart-breaking memoir sheds light on subjects including domestic violence, psychological abuse, depression, loss, and suicide awareness. Part of the proceeds will go towards organisations that provide education around suicide prevention and mental wellbeing.
Pricing
Member: tickets are free, however, there is an option of making a donation to Wellbeing of Women (WOW) by choosing one of the Member 'donation' tickets.
Non-member: Tickets are free, however, there is an option of making a donation to Wellbeing of Women (WOW) by choosing one of the Non-member 'donation' tickets.
@CityWomenLondon | #CWN | #CWNonline
@sd_saurav | @Mandy_Sanghera1