How to lead through uncertainty with confidence, resilience and impact.
Join us for a panel and group discussion addressing strategies employed by leaders when challenged with events at work or in their personal life that had an effect on their performance at work.
As Madeleine Albright famously said, "There's a special place in hell for women who don't help each other." In collaboration with FV, the network for early stage career women working in the City, CWN will participate in the discussion and encourages its members to nominate and bring junior women to this event hosted by Dow Jones.
The audience will hear and discuss how more junior members of the panelist's teams had provided support (or did not provide support) and what qualities senior management look for when considering individuals for leadership roles. There will then be table discussions on how team members can demonstrate confidence, develop resilience and make their decisions and actions impactful.
This is a great opportunity for CWN members to learn more about what junior members want from their leaders. The FV network is aimed at women under 35 who are not yet in senior management roles regardless of how long they have been in their career. CWN members are encouraged to bring more than one junior colleague, however please note that spaces are limited and will be on a first come first served basis.
Guest of Member Tickets are available to members of CWN who are bringing a guest. The ticket is to be booked by the member in the name of the guests.
Panelists include:
Laura Stuart-Berry, Grant Thornton UK – Moderator
Sally Todd, Director of Marketing, Northill Capital; Vice President, CWN
Claire Hafner, Chief Financial Officer, Fintrax
Naomi Bowman, Managing Director, Berkeley Research Group
Charlotte Vitty, Chief Executive, British Transport Police
Carla Stent, Director, MCS Advisory Limited
Pricing:
Free of charge for members and their guests
Timings
6.30pm – Registration
7.00pm – Panel and group discussion
8.30pm – Networking
9.30pm – Close
#leadingthroughuncertainty | #resilientleadership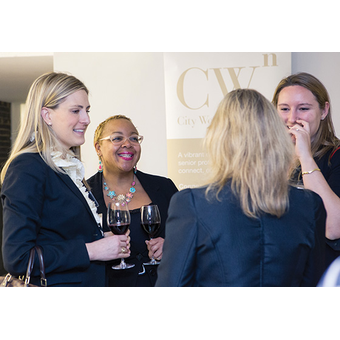 1 London Bridge, London SE1, UK