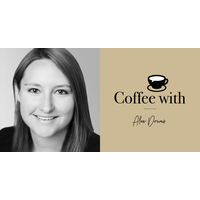 Coffee With Alex Downs
Alex Downs is a senior consultant at Milltown Partners and an active member of City Women Network for over 4 years; making significant contributions to its Communications team. Milltown are a global advisory firm working with organisations and individuals on the communications and public policy challenges that define their reputations.
Tell us what you do and what do you love about your job?
I'm a strategic communications consultant. I work with clients, mostly large or mid-size companies, on issues related to their reputation.
I love the diversity of the work - no one day is ever the same. And I've been lucky enough to work with (and learn from) a very diverse group of clients over the years and some wonderful colleagues.
You're 31 years old now – what did you want to be when you 'grew up'?
When I was really little, I loved the idea of being an actress or a singer. Then I decided I wanted to be film director – I think part of me secretly still wants to be one... I was always fascinated by all the behind the scenes work that goes into film projects.

You've been working over 10 years now – what has been most fulfilling in your career so far?
The strong working relationships I've built with my clients and colleagues over the years. I really enjoy working with people, so consulting has been a great fit in that respect, and I love the amount of teamwork involved in the day-to-day work.
I also enjoy when I'm able to help connect people from different facets of my life – whether its connecting friends to CWN, the Junior League of London (a charity I'm involved with) or through work. I was actually introduced to CWN in 2015 by a friend who was on the Board at the time and I've been really thankful to have the opportunity to work with such impressive women. It definitely proves the value of networks.

What is the best decision you have made for your career?
This might be a bit of an unusual answer, but when I look back, one of the best decisions I made was to start learning German when I was in high school. I had an incredible German teacher, who encouraged me to continue studying the language through university, which I did. The time I spent after my studies living and working in Germany and with German clients has had a big impact on my personal and professional development, especially in the first few years of my career. And it was a bit of a differentiator when I first started applying for jobs. So it's a decision I'm very thankful for.
. … and the worst decision you have made?
Probably not having progressed my UK citizenship earlier… I am eligible as I have lived here for so long (my family moved here from the US when I was 9), but it's one of those things that I've always put off until 'later'. Reminds me that I really need to put that back on the top of my to-do list…
You are involved in the CWN's own 'Rising Star Program' – what advice would you give them and your younger self?
Listen to your instincts and be as proactive as possible. Be thoughtful about what elements of your job you particularly enjoy – then find opportunities to do more of that type of work. Look for opportunities to give back – either through mentoring, charity work, or by volunteering with organisations that can benefit from your time and experience. Some of my most valuable professional experiences have actually been through working with CWN and charities.
I also think it's really important to invest time in networking. It's sometimes hard to prioritise when life gets busy, but I think it's increasingly important not only for your career, but also for your own personal development.
What do you think women can do to help other women in their careers?
Always be advocates for each other… continue to put forward female colleagues, friends (and even ourselves) for roles, panels, awards, committees – and actively encourage development and promotion of female peers when you have the opportunity.
What would be your favourite place to have a coffee in London and with whom?
Favourite place to have coffee in London would probably be at one of my local cafés, Local Hero or Megan's in Fulham.
And with whom – that's easy – Michelle Obama. I'm a huge admirer of her, as well as her husband. I'm hoping she runs for president in 2020 – maybe instead it could be coffee in situ in the White House.
---