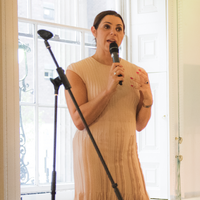 CWN Summer Drinks 2017 - 'Inspiring confidence and realising ambitions'
Debbie Wosskow OBE, UK's most well-known serial entrepreneur
We welcomed Debbie Wosskow OBE as our main guest speaker at the beautiful and historic Chandos house. With lots of self-deprecating humour and self-mockery, she talked us through her business successes. From being brought up in an entrepreneurial family, through how she created home swapping , after watching a boring movie, to the challenges she faced from working with civil servants on research related to the sharing economy. This led her to giving advice on the sharing economy in the UK and to launch her latest business, Allbright, a platform to give support and invest in female-led businesses. One important message she wanted to get across was that cultural change is needed to get more female investors investing in female-led businesses. Currently only 7% of total investors are female.
She ended her inspirational and energetic talk with one of her main mantra's the 3G's, which according to Debbie are all of equal importance to be successful. Graft (putting the hours in), Grace (be gracious and giving back) and Grit (it takes 10 years of chewing glass before being successful).
Jocelyn Hillman OBE, Working Chance's founder
Our second speaker of the evening was Jocelyn Hillman OBE. CWN has been supporting Working Chance for 18 months and Jocelyn shared with us that we have raised £18.000. Over 760 women have been helped back to employment since the start of the charity with Working Chance working closely together with businesses to get these women back on track. She linked some examples back to Debbie's speech; that most women could be brilliant entrepreneurs but first need to build a normal life, because financial autonomy will lead to independence. 'Women backing women' was Jocelyn's mantra for the evening, stating how important networks are for these vulnerable women who have to start from scratch again. We raised future funds for this valuable and important charity during the evening by running a raffle with great prizes.
The rest of the evening we were able to enjoy the nice surroundings of Chandos House while drinking a nice summer drink such as Pimm's or Prosecco, which were accompanied by delicious canapés.
---